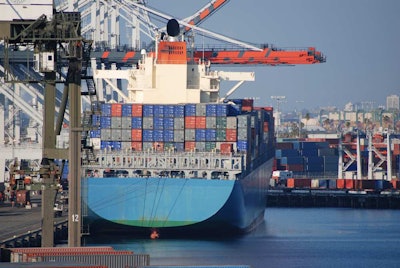 The Supreme Court June 13 ruled that the Port of Los Angeles can't require trucks entering the port to display special placards nor make trucking companies submit off-street parking plans for trucks not in service.
The case was brought against the court by the American Trucking Associations and was heard by the court April 18. ATA sued the port over its Clean Trucks Program, which made trucking companies sign concessionaire agreements to display the placards and submit the parking plans, citing the 1994 Federal Aviation Administration Authorization Act that prohibits state and local governments from creating or enforcing laws that may effect "price, route or service of any motor carrier."
Bill Graves, ATA's president and CEO, said he was happy with the decision, saying that he hopes the decision "sends a signal" to other cities considering programs like the LA port's. "Our position has always been that the port's attempt to regulate drayage operators – in ways that had nothing to do with its efforts to improve air quality at the port – was inconsistent with Congress' command that the trucking industry be shaped by market forces, rather than an incompatible patchwork of state and local regulations," Graves said.
Overdrive sister site CCJ has more on the story. Click here to see it.