Two commercial trucks and a motorcoach equipped with new mobile safety compliance technology were demonstrated at the West Friendship Weigh Station and Inspection Site in Maryland Monday, June 17. Industry stakeholders and Federal Motor Carrier Safety Administration (FMCSA) and Federal Highway Administration (FHWA) government officials observed trucks and buses electronically communicating with weigh station systems as they approached the facility, without ever having to slow down.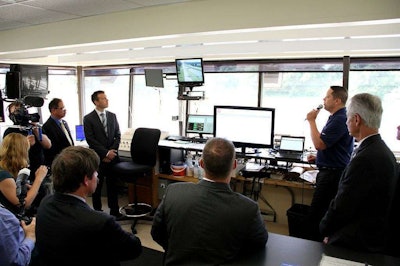 The demonstration gave officials a further window into the first commercial deployment of a system very similar to FMCSA's research-and-design effort in the program for Wireless Roadside Inspection technology, tested in various demonstration projects by researchers in partnership with U.S. DOT and state partners. The commercial developer of the particular system deployed in the demonstration, the Drivewyze bypass service provider in collaboration with in-truck technology partners PeopleNet, XRS and Zonar, calls it "e-Inspection." As a truck approaches a weigh station, critical safety data on both vehicle and driver, including driver ID, electronic logging information, and the weight of the vehicle, in the system are communicated in real-time while the vehicle remains in motion.
"It's next-generation technology, delivered today," said Brian Heath, president of Drivewyze, calling the e-Inspection system "the first commercial vehicle-to-infrastructure solution for large trucks and buses to leverage GPS and telematics technologies to augment traditional roadside safety inspections."
Maryland State Police Captain Norman "Bill" Dofflemyer says such a system could reduce weigh-station logjams by giving inspectors a better window into carriers' and drivers' safety records. "If the carrier or driver has a solid safety record, and [the truck] is not overweight … we can wave them through at the inspection site," he said. Currently, "with all of the vehicles coming into the weigh station – and we see some intrastate delivery trucks three or four times per day – systems and inspections can get clogged. It's inefficient."
Maryland ranked No. 1 for inspection intensity in Overdrive's March state rankings in the CSA's Data Trail series.
As bypass systems are used today, no credit for an inspection is logged in the Motor Carrier Management and Information System (MCMIS) database when a truck is bypassed. MCMIS is the well the CSA Safety Measurement System draws on when computing carriers' scores. Drivewyze representatives were hopeful that the e-Inspection system, with carriers electronically sharing more credentials with inspection station staff over the air, would turn the tide on WRI technology and drive FMCSA and industry acceptance. Showcasing the future at the demonstration were J.B. Hunt, Allied Automotive Group, and the motorcoach company DATTCO Inc. "We've talked with many fleets throughout the country and there is support for what we are displaying," said Heath. "Drivewyze bypass services already offer carriers the opportunity to save time, fuel and money. The system also now supports incentivizing carriers to provide additional CDL and HOS information…. The trucking industry is very motivated to have these advanced real-time driver and vehicle safety screening events count as an electronic inspection (e-Inspection) in their safety profile. The hope would be that e-Inspections could be accepted by FMCSA as a new type of inspection that would count as a credit in a carrier's CSA safety score."