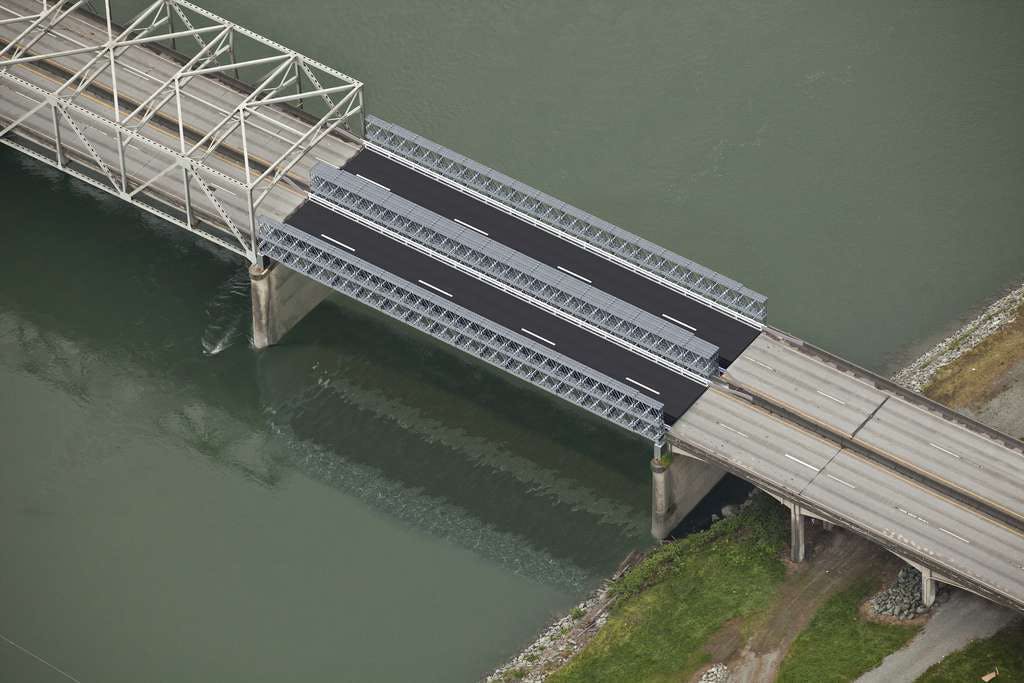 The Interstate 5 bridge spanning the Skagit River near Mount Vernon, Wash., has reopened with a reduced speed limit of 40 miles per hour. The bridge reopened this morning after a temporary span of bridge was installed, the Washington Department of Transportation announced.
Oversize and overweight loads, however, are still not permitted on the bridge and must exit I-5 and take the detours in place. Oversize loads traveling northbound on the Interstate should take Exit 227 and follow signs east to State Route 538/East College WAy, then turn left onto Riverside Drive, then turn left onto George hopper Rd., which will lead back to I-5.
Southbound traffic needing detoured should take Exit 229 and follow signs east to George Hopper Rd. Then head south on Riverside Drive/Burlington Boulevard, before turning right onto State Route 538/East College Way, which leads back to I-5.
WDOT says the permanent fix for the bridge will begin this week and is anticipated to be installed after Labor Day weekend but before Oct. 1. Installation of the permanent section will be require full closure of I-5 in the area again. The contract to fix the bridge was $6.87 million and was awarded to a construction company in Spokane, Wash.
The portion of the bridge collapsed May 23. A report issued last week said the bridge collapsed after a truck carrying an oversize load moved too far right on the bridge and struck trusses that supported the bridge.