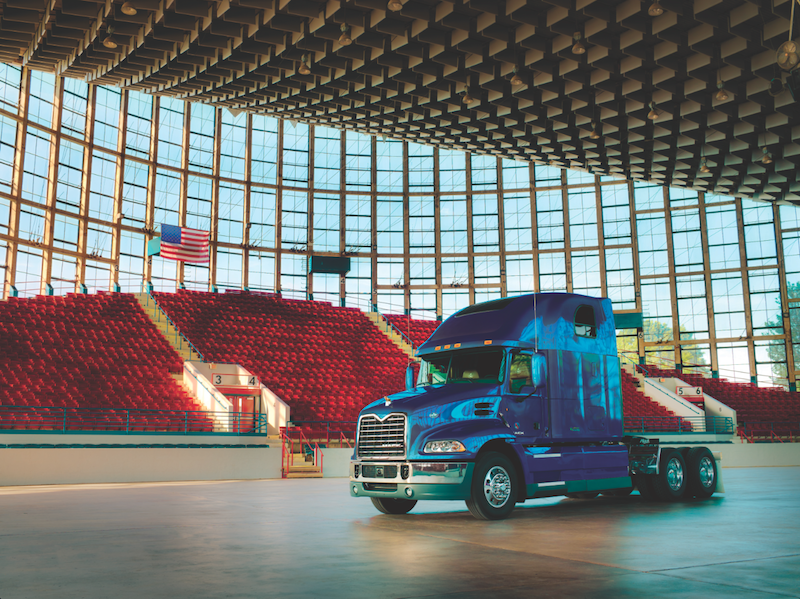 Mack Trucks announced this week it will begin producing dimethyl-ether-powered trucks in 2015, starting with its over-the-road Mack Pinnacle axle-back models.
Volvo, parent company of Mack, unveiled its DME plans earlier this month at a press event in Sacramento. DME is an alternative fuel that can be made from natural gas, food waste, animal waste, grass clippings or anything that decomposes. It's also a clean-burning fuel and can "help reduce dependency on foreign oil," says Mack.
"It's better for the environment because it burns clean, and it can be made from sources that are domestically available. Mack trucks are built in the U.S.A., and with DME, we'll be powering our vehicles with a fuel made in America as well," says Mack President Kevin Flaherty.
The DME-powered Pinnacle will be equipped with Mack's 13-liter MP8 engine. The fuel is compression ignited and is stored similar to propane.
DME can be produced by small-scale production units that convert biogas and natural gas into the fuel.
Equipment Editor Jack Roberts had the opportunity to drive a DME-powered Volvo VNL in California earlier this month. Below are his video of that and a video of him explaining briefly what DME is and how it works.
Also, here's an article explaining what DME is on Overdrive sister site CCJ.
[youtube 2r4AtWk8Pqk nolink]
[youtube RIaTN0R76Kg nolink]