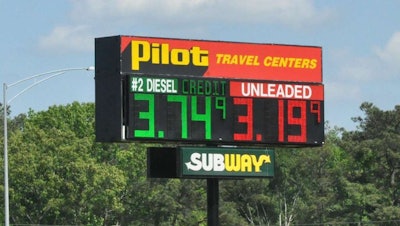 Pilot Flying J has agreed to a settlement for the roughly 20 class-action lawsuits brought against it since allegations surfaced in April that the company had been defrauding carriers out of millions of dollars in owed fuel rebates.
According to court documents Pilot has agreed to pay all of the amounts owed to the lawsuits' plaintiffs plus 6 percent interest on the principal owed.
Moreover, Pilot is responsible for paying administrative and accounting fees, attorney's fees and court costs. Pilot has also agreed to be "permanently enjoined" from withholding rebates deceptively from customers.
Pilot Flying J owner and CEO Jimmy Haslam wrote an open letter to customers last week saying the truck stop chain has already performed internal audits on all of its 3,000 diesel contracts and has sent checks to customers who were owed money repaying them in full and with interest. He also said the company had as of June 30 ended all manual rebate calculations.
The manual rebate calculations were the source of the alleged fraudulent activity, as rebates were not calculated automatically but by a Pilot salesperson.
In a statement released July 16 after the settlement, Haslam said Pilot will issue supplemental checks to customers for "any additional interest not included in the original calculation."
According to the class-action settlement, any Pilot customer can join the class of plaintiffs and have Pilot perform an audit on their account. Per the settlement, Pilot must perform internal audits for the affected accounts to determine how much is owed, which will then be confirmed by independent accountants selected by the court.
The settlement agreement, however, is not an admission of guilt, the court documents say.
A judge in Arkansas court approved the settlement agreement — Click here to view the entire document filed with the court.
Haslam's July 12 letter also said six members of the company's sales team have either resigned or have been terminated since April 15. The company has added several new hires to its sales division.
"We understand that Pilot Flying J still has lots of work to do to regain your trust," Haslam wrote in his letter. "We are taking aggressive measures to restore, preserve and protect customer relationships."
Click here to see Haslam's full letter.