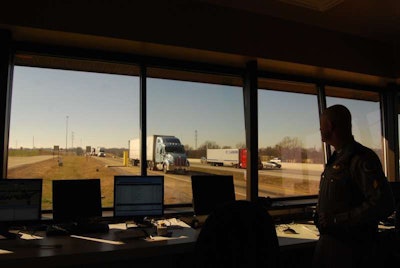 Smartphones, tablets, fleet management systems, global positioning system navigation units and onboard telematics devices have all been cleared by the Federal Motor Carrier Safety Administration for use as transponders in commercial trucks, as noted by an entry published July 19 in the Federal Register.
Transponders allow states to screen trucks and identify ones that my bypass inspection sites and weigh stations if they meet certain criteria, based on safety history, weight and credential status.
With the clearance of phones and the other devices, states can now set up networks to screen trucks with devices that use mobile data that allow them to be used as transponders. State screening devices would then be able to access cellular data networks and exchange credentials via Web connection. Mobile device transponders would be triggered via GPS signal and would then issue the traditional red or green light responses.
FMCSA says the benefits of allowing mobile devices to be used as transponders are: (1) To allow more states to participate in the bypass program, (2) Allow FMCSA and other enforcement personnel to allow more trucks to be checked without stopping, increasing the agency's ability to "target high risk carriers," it says, (3) Decrease congestion and emissions and inspection sites and help carriers avoid costs associated with idling at inspection sites (4) Let states add additional screening sites with no infrastructure-related costs and (5) Allow carriers to use devices they already have, FMCSA says.