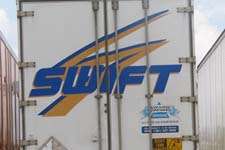 Swift Transportation has been sued in a federal court for allegedly violating the Fair Credit Reporting Act by not disclosing to applicants that it could access background checks and not allowing applicants to contest those background checks.
The class-action suit, brought by lead plaintiff James Ellis III, says the company neglected to disclose the information to more than 10,000 applicants. Ellis claims in the lawsuit he was denied a job with Swift after the company did a background check. He argues the company was not authorized to view the report, which was pulled from HireRight Solutions, nor did they disclose to him that he could view a free copy of the report within 60 days and that he could dispute the accuracy of any information within the report.
The lawsuit says that per the Fair Credit Reporting Act, Swift should have notified Ellis within three business days of disqualifying him from employment that the action had been taken because of the information in the report and that he could receive a free report. Swift also per FCRA law would have been required to disclose HireRight's contact information.
The lawsuit says that since 2006 Swift has purchased consumer reports and criminal background checks and does not "provide or obtain an appropriate disclosure and authorization from job applicants…prior to acquiring these criminal background reports.
FCRA laws allows consumers to recover punitive and statutory damages, attorney's fees and costs for "willful violations of its provisions," the lawsuit says.