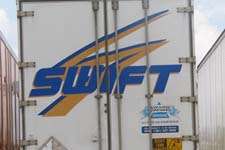 Swift Transportation has agreed to a $4.4 million class-action settlement in the case involving claims that the carrier violated stipulations of the Fair Credit Reporting Act by not disclosing to driver applicants that it could access background checks and not allowing applicants to contest the carrier's findings.
The settlement applies to any driver applicant for Swift between July 23, 2008, and Sept. 30, 2012, for whom Swift obtained a background check, motor vehicle history report or consumer report and did not first have an in-person interaction with, according to court documents.
There are about 161,000 members in the class, court documents say, divided into two types: Group 1 and Group 2. There are about 48,000 Group 1 members and about 113,000 Group 2 members.
Group 1 members will get $50 each, and the remainder of the $4.4 million will be divided between the Group 2 members, with each settlement to not exceed $50 and the overall settlement to not exceed $4.4 million.
The suit was brought by James Ellis III last summer, who claimed he was denied a job with Swift after the company performed a background check on him. He argued the company was not allowed to view the report and that Swift did not disclose to him that he could see a free copy of the background report for 60 days to contest any information within it — a violation of the Fair Credit Reporting Act.
Both sides met with a mediator in February and reached the settlement agreement, according to court documents.
Class members have 60 days from the settlement's final court approval to opt out and pursue separate legal action.