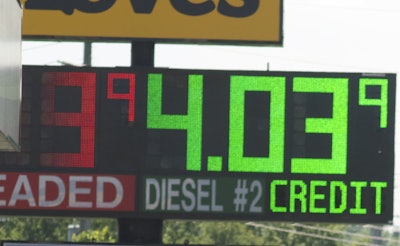 Diesel jumping up or falling down week to week is commonplace now, but in the 1990s, diesel only changed 5 cents from week to week one time in the entire time the Department of Energy began reporting diesel prices, which began in March of 1994.
The 1,000th weekly report was issued earlier this year in April, offering a chance to reflect on how diesel pricing has changed in those 1,000 weeks.
The number of times the week-to-week change in the national retail diesel price exceeded 5 cents (up or down): 
1990s: 1 time in 302 weeks (0.3%) 
2000s: 95 times in 521 weeks (18.2%)
2010s: 42 times in 186 weeks (22.5%)
On average, in the 2010s, the price of diesel changes week to week by 5 cents or greater more than once per month.
Also in stark contrast to the "good ol' days" of the '90s is this somewhat startling figure: The difference between diesel's highest point and lowest point in that decade was just 37.6 cents.
The price of diesel changed more than that in just two weeks in October 2005 after Hurricanes Katrina and Rita.
The first weekly double-digit increase was Jan. 24, 2000, marking an end to the sweet days of cheap, stable diesel seen in the '90s. That jump, along with a decline in freight, shut down thousands of owner-operators and small trucking companies who were already strapped for cash.
The double-whammy effect also brought back the practice of charging customers fuel surcharges.
Diesel first hit the $2 mark in September 2004, and it only took 12 more months for it to hit the $3 for the first time.
Between 2005 and 2008, the price of diesel sank a bit and stayed mostly put between $1.50 and $2.
However, another tumultuous ride came in the first 6 months of 2008, as the price skyrocketed from $1.505 a gallon to nearly $5, peaking at $4.764. In a five-week period between February and March of that year, the national average price of diesel rose 69.4 cents.
Diesel first topped $4 in April of that year.
However, the bottom fell out in 2009, and the price of diesel plummeted, dropping to roughly $2 a gallon again.
Since, prices have been mostly stable, with rises and falls coming in longer, less-severe streaks, rather than huge week-to-week bursts.