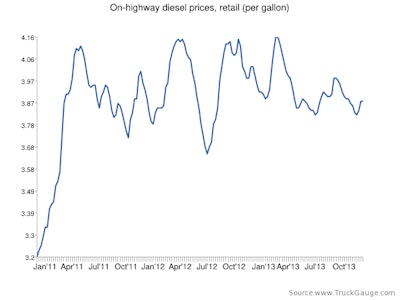 So ends the latest streak of weekly diesel price increases — the national average price for a gallon of on-highway diesel fell in the weekended Dec. 9 a fraction of a cent to $3.879 a gallon.
The four-tenths of a cent decrease comes after two consecutive weeks of increases — the first consecutive weekly price increases since early September. The price of diesel now has only increased two weeks out of the last 14 and is down 10.2 cents since the last week in August.
The national average price is 11.2 cents lower than the same week in 2012. Starting with the first week in December of last year, diesel dropped seven weeks in a row.
The New England region and the California region have the country's most expensive diesel — $4.066 a gallon — while the Gulf Coast has the nation's cheapest, $3.776.
California and New England are also the only two regions nationally that have average prices above $4 a gallon. The New England region led regional increases in the week, rising 2.6 cents. The West Coast less California region led all decreases, falling 2.3 cents.
All regions are also cheaper than the same week in 2012, led by a 20.2-cent difference in the Central Atlantic region. California has the smallest year-over-year gap, at 2.7 cents cheaper than the same week last year.
Click here to see more of EIA's data.