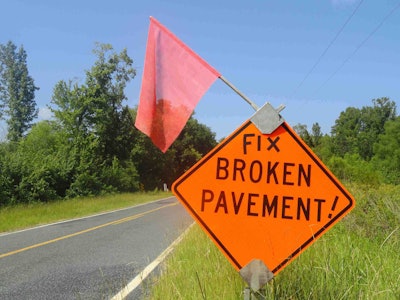 Overdrive sister site CCJ's Kevin Jones took a few notes on his recent 1,650-mile roundtrip between Little Rock, Ark. and Chesterfield, S.C., in which he took I-40 across Tennessee on his way from Little Rock and I-20 through the Deep South back.
He jotted down the worst section of Interstate he crossed, the smoothest section, the best weigh station, the most impressive vehicle and the best road sign (see above) among other items. A few of the highlights are below, but you can see them all, with commentary, on Jones' blog post on CCJ.
Best road sign: Tired of potholes, someone wrote "FIX!" above the broken pavement marker. Jones says Congress should take note — there's much political gain to be had, including votes, for support for better highway funding.
Most impressive vehicle: A Peterbilt 379-turned motorhome
Prettiest segment of Interstate: I-40 in the Smokey Mountains, near the Tennessee-North Carolina border. That same stretch, though, Jones notes, was the least friendly to trucks on his trip. 
Roughest segment of Interstate: I-20 heading west in Alabama, right after crossing the Georgia line. Jones says this section of road could have been used to effectively interrogate terrorists on the whereabouts of Osama bin Laden.
Click here to see Jones' full list of notes on highway commentary from his trip.