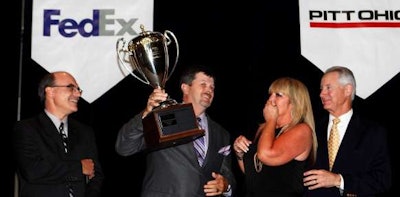 Gary Harms, a Walmart Transportation professional truck driver based in Olathe, Kan., was named the 2013 Bendix National Truck Driving Championships Grand Champion. Gary's driving skills and knowledge of transportation and truck safety information topped those of 422 other professional drivers from all across the United States in the National Truck Driving Championships, held in Salt Lake City, Utah, this weekend. The 76th annual "Super Bowl of Safety" was sponsored by the American Trucking Associations.
Harms has logged 30 years as a driver, with more than 1.7 million miles behind the wheel, and began competing in his state truck driving championships in 2007. This is his second trip to the nationals. In 2011, Gary placed first in the four-axle class.
The contestants were the state champions in nine truck types from all 50 states. Collectively, they have driven 605,654,659 accident-free miles.
Find more about the championships in this piece by past participant John Borman, who chronicled his tour through the Minnesota State Championships in 2011.
"Gary truly represents what is best about our industry," ATA President and CEO Bill Graves said. "To win the title of Bendix National Truck Driving Championships Grand Champion, Gary bested more than 420 of America's safest, most professional drivers, and he and his company, Walmart Transportation, should be congratulated for their efforts."
Gary also won the individual 5-Axle Sleeper driving competition. Joining Gary as champions in their respective classes:
Three-Axle: MA — Roland Buldoc, Fedex Express, East Longmeadow, Mass.
Four-Axle: NM — Ralph Garcia, ABF Freight System, Inc., Rio Rancho, N. Mex.
Five-Axle: VA — George Johnson, UPS Freight, Aylett, Va.
Flatbed Class: KY — Richard Wayne Crowder, FedEx Freight, Lanesville, Ind.
Sleeper Berth Class: KS — Gary Harms, Walmart Transportation, Olathe, Kan.
Straight Truck: MD — James Carver, Owings, Md.
Tank Truck Class: AZ — Ina Daly, Con-way Freight, Avondale, Ariz.
Twins: ID — Timothy Melody, ABF Freight System, Inc., Fruitland, Idaho
Step Van: OK — Justin Kingsley, FedEx Ground, Tulsa, Okla.
Gary Harms succeeds Don Logan, a professional truck driver with FedEx Freight from Eskridge, Kan., as the National Grand Champion.
Bruce Renton, a driver for Holland from Grand Rapids, Mich., was named 2013 Rookie of the Year after competing in the Straight Truck division. Renton has 13 years behind the wheel and over 900,000 accident-free miles.
The Kansas state truck driving championship team won honors as the highest scoring state team, with Wisconsin coming in second, followed by Vermont.
Find a full list of award winners via this news release.