It's been a weird summer for weather. It never really got hot in Ohio, and it never really stopped raining in Georgia, South Dakota and Kansas. I was wearing a jacket in Pennsylvania in July, and I don't think our son has removed the ratty flannel he got at a thrift store in Washington State since he bought it. The only place we've been where  it was actually warm enough to swim in a pool and enjoy it is Texas. Of course, we stay away from Florida during the summer months — George says driving in the Sunshine State during vacation months increases you chances of a fiery crash by about a thousand times. Florida is the only place I've ever been where people will come to a complete stop in the middle of the highway for no apparent reason.
"Martha, I'm feeling a little tired."
"Well stop and take a nap, Fred. This looks like a nice spot."
"This is the middle of the highway, Martha."
"Oh, no one will notice. There are three other lanes for them to use."
"Yes, but two of them are flowing in the opposite direction."
"Well they'll just have to learn to share. Hand me the pet anaconda and your three-course dinner from Abuelo's and lean back for a nap."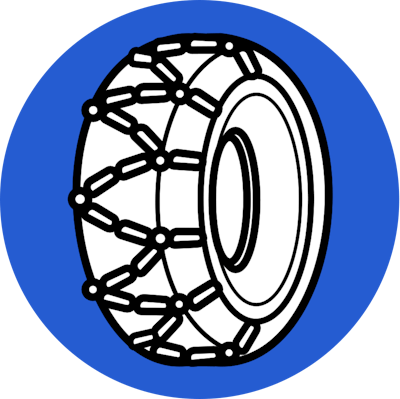 The Farmer's Almanac is calling for a horrid winter. It's inciting panic with words like "ice caverns," "four hundred gabillion feet of snow," and "planetary implosion due to freezing temps." OK, it didn't really say all that, but it may as well have for me. I'm not a huge fan of snow, especially when I have to leave the house in it. I had never even seen more than a dusting of snow until I was 25 years old, and I moved from Georgia to Ohio. My first winter in Ohio is still on official record as one of the worst of all time. For about three months, it would snow one day and ice the next. I spent an inordinate amount of time sitting in my car, sobbing and threatening to throw myself in front of a snow plow.
Being unfamiliar with the colder climates, I had never actually seen a set of snow chains until George got his first truck. I was helping him get his stuff all organized, and came upon the bags of chains under the bunk.
"What the hell is this?"
"Snow chains. For the tires."
"Are you kidding me? They're really chains? I always thought that was a metaphorical statement, I had no idea they were really chains."
"Really, babe? Sometimes I wonder about you. What did you think people were talking about when they said 'tire chains'?"
"I don't know, like really knobby tires or tires that were all connected, like a tank track. I think that's a better idea. I'm going to invent a track that fits around all the tires and works like a tank."
"Uh hunh. And since you know so much about truck tires, that should be easy for you."
"I sense sarcasm. There's this thing called 'Google.' I have the world at my fingertips."
"Well go ahead and Google how to throw those chains, cause' you're going to be helping when the weather gets bad."
"Pfft. I think not. We'll be pulling into the full-service chain lane."
"There's no such thing."
"Well, there's another business opportunity. We're going to be rich."
I went on to tell him how our full-service chain lane will have cappuccino and croissants while you wait, but I don't think he heard me over his rude and oppressive laughter. Just remember, people thought the Wright Brothers were crazy, too.