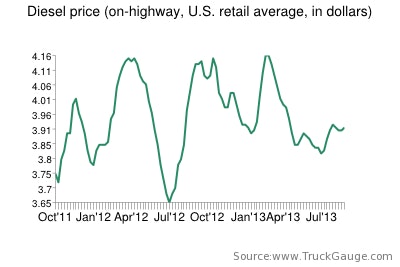 The national average price of on-highway diesel rose 6.8 cents this week — the highest week-to-week jump since February — coming on the heels of increased likelihood of U.S. military intervention in the war in Syria. 
Diesel prices, however, are still 14.6 cents lower than the same week last year, according the U.S. Department of Energy's Energy Information Administration. 
The average price also rose in all regions in the U.S. The Midwest region led the increases with an 8.3-cent rise. The most expensive on-highway diesel is in California — $4.21 a gallon average — and the Gulf Coast region has the cheapest on-highway diesel, $3.897 a gallon. 
Click here to see complete diesel pricing information on the Department of Energy's site.