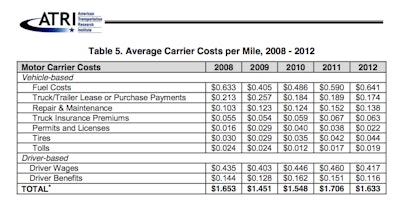 A trucking business cost $1.63 a mile to operate in 2012, according to a recently released report from the American Transportation Research Institute, down 4 percent from 2011 and driven mostly by a decrease in driver wages and benefits, says ATRI's study.
That number, however, is likely to spike as fuel costs grow and pressure to increase driver pay, says ATRI's "An Analysis of the Operational Costs of Trucking" report.
In 2011, trucking cost $1.71 a mile. To use another metric, trucking cost $65.29 an hour in 2012, also down from 2011's $68.21.
Driver wages decreased 4.3 cents a mile in 2012, says ATRI, while their benefits fell 3.5 cents. That decrease outweighed the rise in fuel, tire and toll costs. Other factors contributing to the decline in costs include decreases in equipment lease and purchase payments, repair and maintenance, permitting and licensing or insurance premiums, ATRI's report says.
Fuel costs in 2012 accounted for 39 percent of total costs — the largest documented in ATRI's five years of research.
Click here to see ATRI's full report.