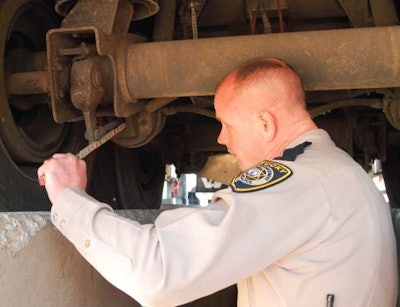 Inspectors will conduct more than 30,000 brake inspections across North America during the Commercial Vehicle Safety Alliance's Brake Safety Week Sept. 8-14.
Inspectors from the Federal Motor Carrier Safety Administration and every CVSA jurisdiction primarily will do brake specific Level IV special study inspections, as well as some Level I inspections. During last year's event, one of seven of 21,255 trucks and buses inspected were placed out-of-service.
CVSA conducts this enforcement and outreach campaigns on truck and bus brake safety each fall and an unannounced brake inspection blitz each spring. The alliance's Operation Airbrake program supports this week, which is not limited to air breaks, but checking all breaks type and brake related technologies on commercial vehicles.
These upcoming inspections include a visual inspection to look for loose or missing parts, air or hydraulic fluid leaks, worn linings or pads, drums, rotors or other faulty brake system components.
They also will check antilock braking systems and malfunction indicator lamps. Where appropriate, they will visually inspect brake components and measure pushrod stroke.
The OOS rate for brake violations during the 2012 Brake Safety Week was 15.3 percent, slightly higher than the previous three years, but a little lower than for 2008 and 2007.
More information is available at operationairbrake.com.