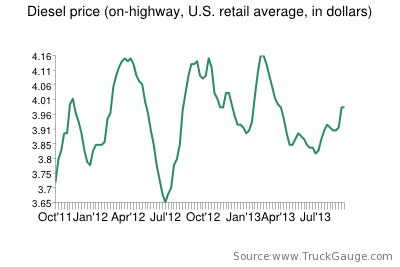 The national average price of a gallon of on-highway diesel did not move in the week ended Sept. 9 from the previous week, holding at $3.981 a gallon, according to the Department of Energy's Energy Information Administration. The price hold marked the end of three consecutive weeks of increases and is the first time since November 2010 that the price of diesel did not change from week to week.
The national average price of diesel in the U.S. is still 15.1 cents lower than the same week in 2012. 
Around the country, diesel prices mostly were flat, too, as the largest regional increase came in California, which saw a 1.5-cent rise. California also has the country's most expensive diesel, averaging $4.225 a gallon. 
The biggest regional drop came in the Lower Atlantic region, which saw a 1.3-cent decline. The Gulf Coast region has the country's cheapest diesel on average — $3.898 a gallon. 
For more diesel pricing information, visit EIA.gov.