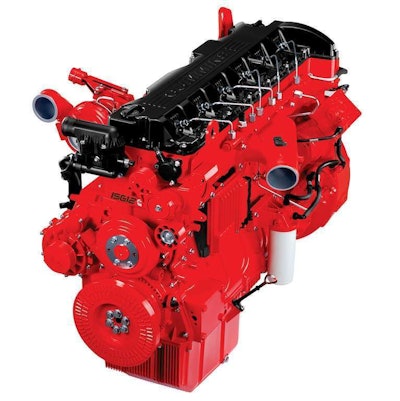 Engine manufacturer Cummins announced Sept. 16 it will soon be offering a new global heavy-duty diesel engine line designed for both on- and off-highway applications. 
The G Series, as it's called, consists of in-line six-cylinder engines in 10.5- and 11.8-liter displacement options. 
One of the key elements of the new platform, says Cummins is a focus on weight savings, in order to increase the power-to-weight ratio. The engines weigh 1,900 pounds, Cummins says, "while retaining all the structural strength and durability expected of a Cummins heavy-duty engine."
According to Cummins announcement, the G series has a sculptured block that "retains high rigidity while removing unnecessary mass." The engines use composite materials on the oil pan and valve cover to save weight, too. 
The engine line uses the company's proprietary Xtra-High Pressure Injection fuel system and offers a peak torque of 1,700 lb-ft. 
In the on-highway market, the G Series will be categorized as Cummins ISG11 (10.5-liter) and Cummins ISG12 (11.8-liter). The engines will have horsepower ranges from 290 to 512. Cummins says the engines are made for use in long-haul, regional haul and vocational applications.