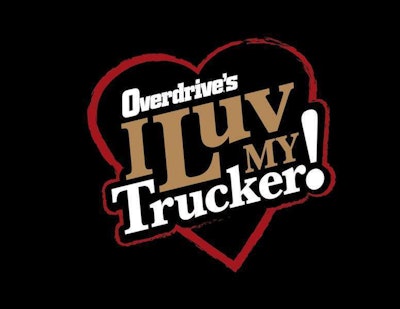 Overdrive's editorial panel has chosen the top 10 finalists in the iLuvMyTrucker trucker appreciation contest. The contest highlights National Truck Driver Appreciation Week, Sept. 15-21 .
More than 100 truckers were nominated by friends, family and colleagues, and the following have won an iLuvMyTrucker T-shirt. The first-place winner, to be announced Thursday, Sept. 19, will be featured in the October issue of Overdrive.
Marvin Dixon, nominated by his daughter, Kalah Tooley
Tulio Figueroa, nominated by his wife, Eillim Cintron
John George, nominated by his son, Riley George
Kenny Keeler, nominated by his wife, Jennifer Keeler
Dano Kurry, nominated by his fiancee, Sarah Sallee
Thomas Lewis, nominated by his mom, Gretchen Lewis
Michael Mick, nominated by his girlfriend, Lori Tennant
Brandy Peters, nominated by her husband, Kristopher Peters
John Raskay, nominated by terminal manager Robyn Smith
Bret Weiler, nominated by his wife, Hannah Weiler
Visit iLuvMyTrucker.com for more information and to see the rest of the nominees.
This Overdrive video celebrates this year's National Truck Driver Appreciation Week:
[youtube InlOw-aJfRY nolink]