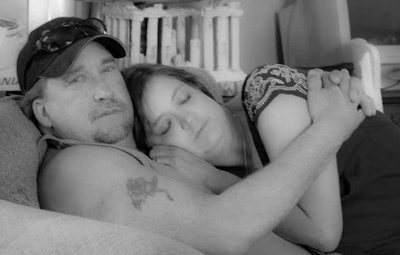 Dano is the most caring, loving man I have ever known. It was a chance meeting my third day of orientation at the new company. It was a couple months later we crossed paths in Missouri and exchanged numbers. From there we would call each other just to chat. The calls got longer and longer. Eventually we met up and had dinner. Dan showed a peaceful, quiet, caring side. Always concerned about my safety as a female driver. We would run across each other across the country spending every precious moment we could together. We finally told our dispatcher and he agreed when he could help us see each other he would. Several months later we were on a dual run out in west Texas. We had been chitchatting on the CB all day. And I hear the sweetest thing on my CB in the middle of nowhere: "Will you marry me?" It was all I could do to hold on. Of course I said yes! Dan's quiet manner, his shyness, his sweet disposition, his care and concern for me and my safety taught me that not all men are jerks.
Since that time we have started team driving for the company. He has not stopped showing me how much he cares for me and loves me. We take each day as a gift.
We will be married in November in Las Vegas with our closest trucking friends in attendance.