Lori Tennant's story about her boyfriend, Michael Mick, has been selected as the first-place winner of Overdrive's iLuvMyTrucker contest, held to highlight drivers as part of National Truck Driver Appreciation Week, Sept. 15-21.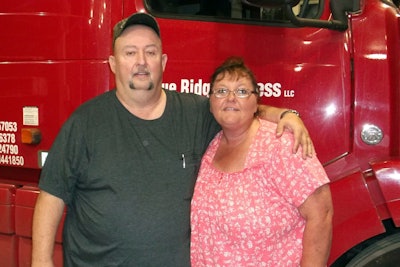 Lori and Michael met 18 years ago, when she was a cashier at a convenience store.
"I'm so thankful that God sent me in that store at 4 a.m. in the morning for a pack of gum and a cup of coffee. She had the most beautiful smile," he says, and he went back on his return trip to ask her out. They went to a county fair together, and the rest is history.
She rode with him on hauls for years, but now hindered by health concerns, she works from their home in Fairview, W.V., to help "keep him loaded." Lori says she loves her trucker because he never gives up, no matter how hard it gets.
Life was hardest when Michael's truck was edged off the road by another truck in 1998. It was "touch and go" for him, Lori says. He spent a year in the hospital and had to learn to walk again.
"I stood by his side the whole time and I took care of him. I went to training to do (be a certified nurse aide) so I could learn to take care of him. I lost my job because of it. I'm not going to lie, it was really tough. But through the grace of God we made it."
Once out of the hospital, Michael used his insurance payout to pay bills and put money toward a truck. He is now an owner-operator and drives for Blue Ridge Express LLC.
Lori says her favorite memory with Michael was when he took her to see the Gateway Arch in St. Louis, Mo., in 1997.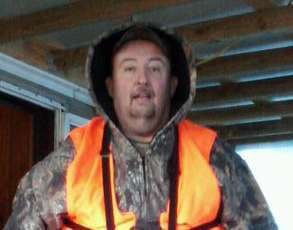 "I cried and cried. I'd never been out of state before to see stuff like that, so I went on the road for a few weeks with him and got to see a lot of things," she says.
Lori didn't tell Michael when she submitted their story for iLuvMyTrucker. But upon learning they were chosen for the top 10, she showed him what she had written.
"Lori doing this story on me was a big surprise," Michael says, "but I knew when she let me see it that it was going to be good because she is a goodhearted woman that never gives up. She is always wearing a smile and is there to help everyone and anyone no matter how she feels."
For more about why Lori loves her trucker, read her contest entry here.
Also, follow OverdriveOnline.com and the October Overdrive for more on Lori and Michael.