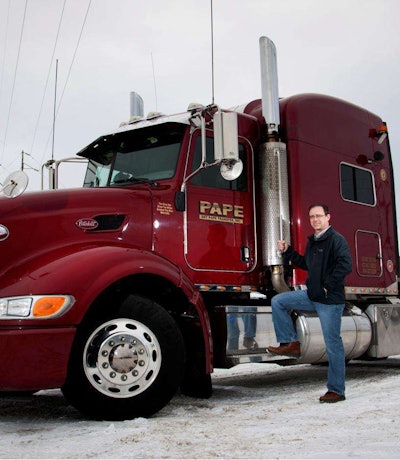 Bryan Smith has always been interested in trucking, ever since he was a young boy.
"My desire to truck was actually probably started in grade school. I had a friend my age whose dad was a truck driver," Smith says. Smith would visit his friend on the weekends, and they would play in his father's truck. From there, it wasn't hard to see where Smith would go.
"After finishing high school, I joined the Marines and served in Desert Storm as a Heavy Equipment Operator," he says. He was in the Marine Corps for four years, handling bulldozers, cranes, rough terrain forklifts and other equipment. After his tour with the Marines, he worked for Schneider National for about a year. He found himself wanting a little more home time, though, so he ended up working as a company driver at Art Pape Transfer at age 25.
"He started driving a company truck and pulling van type trailers from eastern Iowa to New England and back each week," says Loras Pape, president and owner of Art Pape. "Bryan quickly won over the van dispatchers with his cooperativeness, punctuality and safe manner of operation."
Working for Pape allowed Smith to work out of his hometown of Dubuque, Iowa. After working for Pape as a company driver for two years, he bought his own truck, a 1991 Freightliner FLD120, and became an owner-operator. Eighteen years later, he still leases to Pape, pulling vans, flatbeds, stepdecks and oversized loads. During that time, he has driven 2.5 million miles with no accidents.
Smith has been nominated as an Owner-Operator of the Year in the TCA/Overdrive annual competition, also open to company drivers and non-leased independent owner-operators. Nomination applications will be accepted through October 21. Find details on nominating a driver — or yourself — via this link to the TCA website. All nominees must have at least one million consecutive accident-free miles. Company drivers must be nominated by the carrier that employs them. Owner-operators may be nominated by a carrier they have been leased to for three or more years; if independent, they can nominate themselves or be nominated by a spouse.
Three finalists for Owner-Operator of the Year and three for Company Driver of the Year will be announced in December. The six finalists will attend TCA's annual meeting, March 23-26, in Dallas, where the winners will be announced.