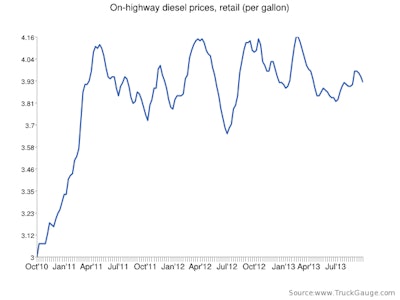 The national average retail price for on-highway diesel saw its biggest week-to-week decline since April 29 — for the second week in a row — falling 3 cents in the week ended September 30 to $3.919, according to the Department of Energy's Energy Information Administration.
The most recent week's decline marks the third consecutive weekly drop — the longest streak of drops since May-July's 7-week stretch. Also, the national average for the week ended September 30 is 16 cents lower than the price in the same week in 2012, according to EIA.
The average price also dropped in all regions in the U.S., led by a 3.7-cent fall in the California subregion. California still has the country's highest diesel average, however, at $4.172 a gallon.
The Rocky Mountain region had the nation's smallest drop, 1.6 cents, but has the largest year-over-year gap — 27.8 cents lower than the same week in 2012.
The Gulf Coast region has the cheapest U.S. diesel average, at $3.831.