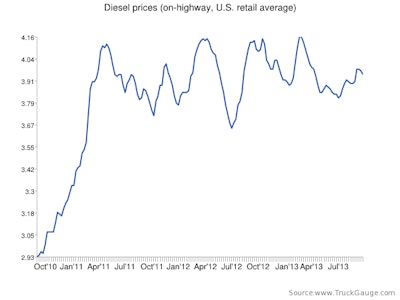 The average price in the U.S. for a gallon of on-highway diesel dropped 2.5 cents in the week ended Sept. 23, according to the Department of Energy's Energy Information Administration, marking the biggest week-to-week decrease since the week ended April 29.
The national average in the most recent week was $3.949 a gallon. The week-to-week fall comes after three weeks of near stagnation in the price of diesel, when the price held steady in the week ended Sept. 9 and only dropped seven-tenths of a cent for the week ended Sept. 16.
The stagnation follows a 6.7-cent week-to-week jump in the week ended Sept. 2, coming on the heels of the possibility of military intervention in the Syrian civil war .
Regionally, the average price dropped in all regions in the U.S. except the Rocky Mountain region, where the average price rose two-tenths of a cent.
The largest week-to-week drop came in the West Coast less California region, which saw a 3.7-cent decline. California has the nation's most expensive diesel, $4.209, while the Gulf Coast region has the cheapest, with a $3.89-cent average.
The national average price is still down 14 cents from the same week in 2012.