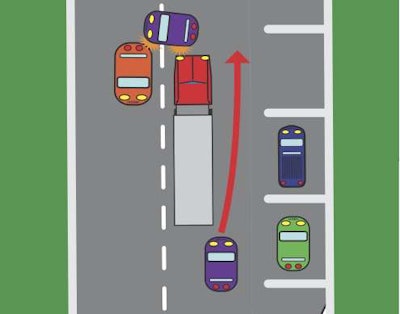 Truck driver John Doe had just passed some parked cars on a one-way street in Bear Paw, S.D., and was approaching an intersection.
The light was green, and Doe was approaching with caution in cased the signal changed. Suddenly, a sports car zoomed around Doe's right side in an attempt to pass him — through parking spaces — and then lost control in front of him. The sports car hit the right front fender of a rusty Chevy van pacing Doe in the left lane, and Doe's truck slammed into the side of the sports car.
The wasn't the only hit — After the incident, Doe receiver a preventable accident warning letter from his carrier. Doe contested, and the National Safety Council Accident Review Committee was asked to render a decision.
The committee upheld the preventable accident ruling, saying Doe should have checked his right side mirror and, if he had, he could have prevented the accident.
This was an adaptation of Overdrive sister site CCJ's "Preventable or not?" series, which appears regularly on CCJdigital.com.