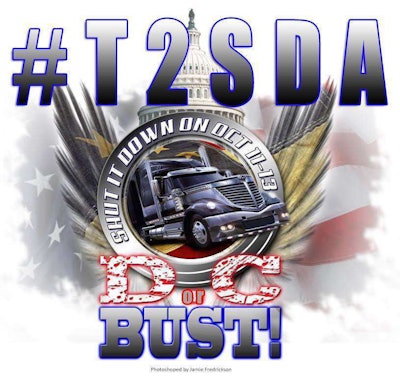 Support for this weekend's Ride for the Constitution — billed variously as a shutdown, rally, buy-nothing protest and a series of convoys — has been falling in recent days with growing perceptions of a lack of credibility among its organizers and an overall lack of direction and organization. Support among Overdrive readers, too, has plummeted in recent days, falling to 35 percent midday Thursday, down from 38 percent Wednesday and 43 percent Tuesday.
Capping the overall dissolution of the event was a D.C. convoy coordinator's public admission that the extreme elements of his plan to take over the Capital Beltway — I-495 in the Washington, D.C., area — Friday in an attempt to cause a traffic jam and then move to Capitol Hill and arrest members of Congress was simply meant to "ruffle some feathers" of national media, according to a report in The Washington Post.
Those concerned with actually taking on over-regulation of the trucking industry have also expressed disappointment in the movement, due to its broad and slightly outlandish array of demands — such as removing President Barack Obama from office — and lack of clear focus on industry issues, like hours of service, unpaid detention time, etc.
Moreover, trucking advocacy associations like the Owner-Operator Independent Drivers Association and the American Trucking Associations both have expressed disapproval for the shutdown and convoy.
In a statement OOIDA says it opposes the movement and its threats and says the shutdown only stands to damage the image of trucking and truckers:
"The individuals leading this particular effort have no direct affiliation with trucking and appear to be using truckers in order to gain media attention and air other political grievances. We do not support assembling in an unlawful, unpermitted manner, committing crimes, making threats on our lawmakers, or behaving in such a way to cast safe, professional truck drivers in a negative light."
The most effective way to effect change, OOIDA says in its statement, is to "conduct long-term campaigns and encourage an open dialogue between truckers and their representatives."
ATA in its one-sentence statement says it does not "endorse or condone the activities of these few individuals."