Whether the Ride for the Constitution trucking protest planned for Friday has the widespread backing or the top-down organization to pull off a meaningful rally or produce any results is questionable, at best. You can't knock its promoters-in-chief for not trying, though: They've garnered coverage from the likes of major news outlets like Fox News, The Washington Times, Huffington Post, Gawker, US. News and World Report — and on and on.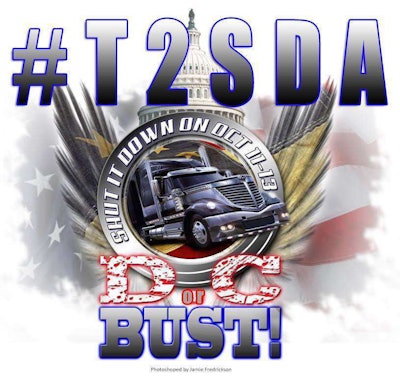 The ability to push a message, though, doesn't bridge the wide gap in the sheer logistical effort it would take to pull off the intended Ride, though, as Washington Business Journal Assistant Managing Editor Greg Otto points out in a post published Tuesday.
One of the methods the Ride organizers intend to use to garner attention — and supposedly make lawmakers and the public take a look at overbearing hours-of-service rules, high fuel prices and unpaid detention time — is to cause a traffic jam on the Capital Beltway by essentially taking it over, driving 55 mph and blocking it to those wanting to enter or exit.
The Capital Beltway is 64 miles long, and one of the convoy's organizers said trucks and trailers will be occupying all three lanes of the entirety of the highway.
That would require a grand total of 16,983 trucks, as Otto points out in his piece. Just to occupy one entire lane of the Beltway, the Ride would need 5,631 trucks.
So no matter how convinced the event's organizers are or how much they uptalk the merits of their actions on national television, that's a logistical nightmare, and one that leads me to say (like Otto) — Dream on.
Oh, by the way, if promotion for the Ride has been effective enough to draw 17,000 trucks to Washington on Friday, they'd need about $13.5 million to buy the 3.4 million gallons of diesel that would be required to fuel the protest.
Again I say — a well-marketed event? Absolutely. A well-organized one? Perhaps.
But a feasible one? Highly doubtful.