Trucking's top regulator said Friday that she was "grateful and honored" to call the names of 35 "remarkably impressive owner-operators" in recognition of their accident-free years.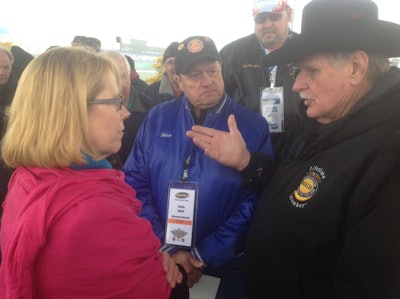 Anne Ferro, head of the Federal Motor Carrier Safety Administration, did the honors on behalf of the Owner-Operator Independent Drivers Association. The Truckers for Safety recognition was part the Heart of America Trucking Show, held in Kansas City, Kan., for OOIDA's 40th anniversary celebration.
Ferro also credited OOIDA with driving home the safety message to its membership.
Despite persistent cold rain seasoned with a little sleet, the mood was a warm one as honorees expressed mutual respect for fellow veteran truckers.
When the honor roll had been called, Ferro quickly sought out John Taylor of Cross Junction, Va., who has racked up 62 accident-free years at the wheel of a big rig. Other drivers, even those with 20 or 30 safe years, likewise quizzed him on his career success and longevity. Despite the weather, many lingered on the stage for nearly 30 minutes, talking about the business.
"I haven't cashed a paycheck that didn't come from trucking since I was 15," Taylor told Overdrive.
Lean, rugged and bright-eyed at 79, Taylor spent much his long career pulling a reefer, and still runs every now and then with a trusty Kenworth W900.
He emphasizes the importance of road awareness and says a driver's skills develop with experience. But the secret to being happy in trucking is in being able to understand people and get along with them. He also suggests that driver distraction – in both automobiles and trucks – has become a serious problem.
And he even admits that he started driving, unlicensed, at 13 – so his crashless record is actually longer then the official mark.
"I've never met a professional driver who wasn't proud to do the job, every day, without running into folks," said Todd Spencer, OOIDA's executive vice president. "And, you know, it's not easy. To be a safe driver you not only have to know what you're doing, you have to anticipate what other people are going to do. That only comes with having your mind right, having the experience, and continuing to learn."
The show continues Saturday at the Kansas Speedway in Kansas City.
[youtube 4SdqI4D4zsI&feature=youtu.be nolink]