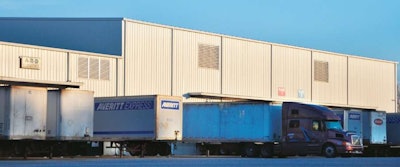 Part 1 of this feature looked at government-focused efforts on detention and the question of whether a more-widespread hourly-pay system for drivers might be in the cards for the industry.
Industry solutions to detention
Many carriers have moved in in the direction of time-based pay systems with hourly detention-pay plans, though other research suggests that nearly half of the industry's drivers get no detention pay. Independent owner-operator Cory Davidson is one of those drivers.
Running a 2000 Kenworth T800 to pull a 53-foot 2003 reefer, Davidson works primarily with brokers to get freight. She chuckles when asked if it's at all common for brokers to offer standard detention rates on reefer freight. "Not from any broker I ever deal with," she says. Davidson is left with bargaining for extra pay up front with brokers if she knows she's likely to be held up, or on the back end if detained unexpectedly by a shipper or receiver. Brokers she works through infrequently – "one-hit wonders," she calls them – simply won't deal with her on anything.
Davidson credits C.H. Robinson for "throwing an extra $100 on" when she gets held up. The brokers she uses regularly work to keep her happy and moving, she says.
INDEPENDENT NEGOTIATION OF DETENTION RATES | Greensburg, Pa.-based owner-operator Chip Shirey runs a 1998 Kenworth W900. He also employs drivers for another W900 and a Kenworth T800.
Running flatbeds and step decks, Shirey's business once could command standard detention rates of $100 to $125 an hour. Today, even benefiting from the boom in oil field and natural gas fracking work, "it's down in some places to $40 to $45," he says. "I just stay out of those places." Shirey's detention target: $70 an hour, following a couple hours' worth of free time, which he says seems to be an industry standard.
Carriers with percentage pay plans for drivers split detention by the same percentage, Shirey says. "If it's a couple hours, I pretty much give it all to the driver," he says. "If it's eight hours or something like that, I'll split it with them." For longer wait times, it makes good business sense to consider "what you're losing with the truck just sitting there," he says.
Small intermodal fleet owner-operator Thomas Blake has had some success with a similar strategy. The four-truck Thomas Blake Trucking, based in Woodbine, Kan., has a detention rate with some customers of $40 an hour after two hours, and he's paying drivers $15 of that. Lost revenue from loads delayed due to detention adds up more quickly in Blake's mostly short-haul business.
Detention has become a more crucial factor since Blake installed electronic logging devices in his trucks, a response to problems in the Hours of Service BASIC under Compliance, Safety, Accountability that put his fleet in FMCSA's crosshairs. The PeopleNet logging system also works to his advantage by giving him a GPS-located, time-stamped log of truck location. He's used it more than once to prove problem delays and get improved rates with the customer. In the absence of an electronic logging devices, operators using smartphone-based load-tracking systems and logging apps and/or GPS-enabled dashcams, or other devices, could do leverage technology in similar ways.
Not all of Blake's customers, however, have been cooperative. Blake's down from six working trucks to four after walking away from a contract in a disagreement over detention rates. "I crunched the numbers and decided that if they weren't willing to pay us after two hours of free time, those loads just weren't worth hauling," he says.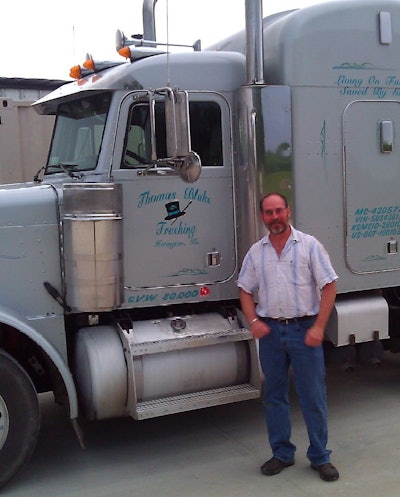 Among Davidson's biggest customers is Costco. Though the retailer's former system was "a nightmare" for drivers, in recent years she's seen a transformation in efficiency at their docks. "You don't ever get out of your truck except to open your doors – there's no inside check-in," she says. "They're one of my favorite places to go. … Kudos to them for figuring it out."
In dry van operations serving larger retailers, where space allows for a trailer pool, efficiency on the receiving end also can be solved, says Dave Geyer, Schneider vice president for van truckload. "Our position to our customers is that we'd actually much rather get our drivers moving than have to collect detention," Geyer says. Schneider pays its van drivers hourly after two hours detained, regardless of whether the carrier is able to collect detention. Customers' reporting or administrative hurdles "can make it difficult to collect."
In the reefer segment, Marten Transport two years ago instituted guaranteed detention pay on both shipping and receiving ends for both its company drivers and owner-operators. Tim Norlin, Marten recruiting director, says the program pays $20 per hour after the first two hours. "We're still fighting the same battle" with customers over improving efficiency, Norlin says, "but it's not fair to have the driver stuck in the middle as always."
Nearly a third of respondents to Overdrive Online.com polling think more carriers need to take that kind of aggressive approach on collecting detention and distributing it to drivers.
Since putting the program in place more than two years ago, Marten sales staff "have worked very hard during rate negotiations to put verbiage in there as to what's acceptable in terms of detention, and they've had some fair success," Norlin says. Marten even has walked away from customers that resisted detention pay. "It didn't make sense economically with the new hours of service," he says. "Some have come back to us, and they've done some things to fix the problem."
The guaranteed-detention program has translated to greater efficiency across Marten's operation: Miles per unit rose 9 percent between the second quarter of 2011 and the same quarter this year, "giving drivers an additional $1,000 on average per quarter," Norlin says.