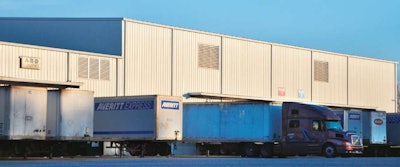 Since the change in the hours of service rule early in the last decade that brought in the rigid 14-hour duty day, detention at the loading docks has been a major pet peeve of drivers. In a poll last year on the biggest challenges for owner-operators, Overdrive readers voted uncompensated detention No. 3, following only the cost of fuel and the hours of service rule itself.
At the core of the issue: Everyone in the supply chain benefits from uncompensated detention time – except the driver. As Landstar-leased owner-operator John Scott says: "How the government ignores this is simply a dollars-and-cents thing to prevent upsetting the shippers and receivers. I know we don't want to make products go up [in price] for consumers, so the end result is that drivers continue to absorb the lousy efficiency of our transportation system."
Given the industry's recent preoccupation with driver pay, progress could well be expected. There are government- and industry-centered solutions that could help – and in some cases already do.
Government solutions
Federal Motor Carrier Safety Administrator Anne Ferro has been upfront about her intent to use the "bully pulpit" to influence shippers and receivers. But Ferro also has stressed repeatedly that FMCSA lacks the authority to set rules for the docks. There have been some efforts by lawmakers – notably U.S. Rep. Peter DeFazio (D-Ore.) – to provide such authority with legislation that would limit detention, but all have died in a divided, distracted Congress.
"We need to take a close look at detention time" and DeFazio's mandatory detention-pay bill "to figure out how we can make shippers be more accountable," Ferro last year told the Trucking Solutions Group, a small band of high-profile owner-operators.
The agency is studying how it can combat the problem. Ferro has said she expected results in 2015, but agency spokesman Duane Debruyne recently confirmed that the study is on a bit faster tracks — results, he said, would be coming before the end of 2014.

Given the speed at which the wheels of justice turn at the highest levels, don't count on quick results. In the meantime, some drivers have taken matters into their own hands. Notable among the variety of detention solutions under discussion is an industrywide shift to a time-based driver-pay system.
Gordon Klemp of the National Transportation Institute says his organization's National Survey of Driver Wages tracks W-2 income of drivers with some carriers currently paying by the hour, mostly carriers with high route predictability – "lots of dedicated contracts and runs," he says. A hybrid hourly/mileage pay system also is the norm at many intermodal carriers, with short runs paid by the hour and longer runs by the mile.
By and large, however, Klemp says hourly pay may is not panacea for better income that many drivers might otherwise assume. "When you look at end-of-year W-2s" for employee drivers, he says, "it's not like the hourly drivers make a lot more money."
Among drivers operating under mileage or percentage programs, a somewhat common refrain – we need pay for all hours worked – is echoed by owner-operator Scott. Running dry freight, he urges drivers to "consider how much on-duty time is not compensated for by anyone – this includes fueling, unloading/loading, inspections, breakdowns and so on. A lot of trucking issues could begin to be solved if drivers were required to be paid for all duties associated with their job."
Driver Zachary Bell concurs, noting that "for detention and fueling, inspections and breakdowns, I would like to see a pay system for that otherwise uncompensated on-duty time." Bell acknowledges that at some level, accessorial charges have been taken too far. "Sweeping the trash out of the trailer only takes 5-10 minutes, and some want to charge for that."
Yet others see the uncompensated on-duty time problem as so widespread and egregious that it won't be solved without a federal move on the structural underpinnings of driver pay. Washington State-based owner-operator Joe Ammons introduced a petition earlier this year that has garnered 500-plus signatures to amend the Fair Labor Standards Act. Ammons would remove the exemption for interstate truckers from overtime and other wage and hours protections that has allowed the miles- and percentage-based pay systems to flourish in the industry since the 1930s.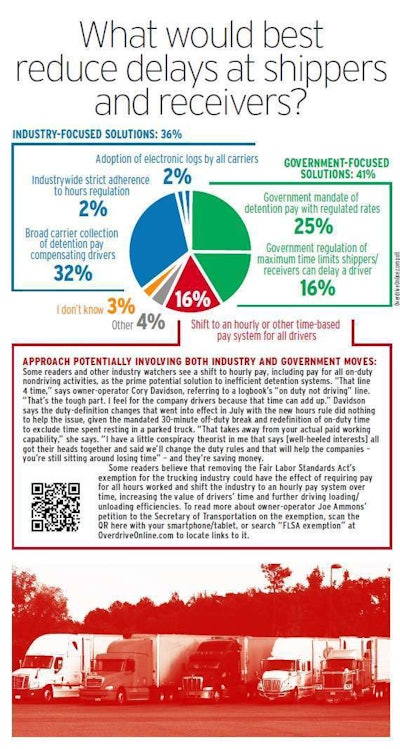 Read Part 2 in this feature, on what the industry is doing today to remedy the problem, amid the pressures on operators from declining length of haul.