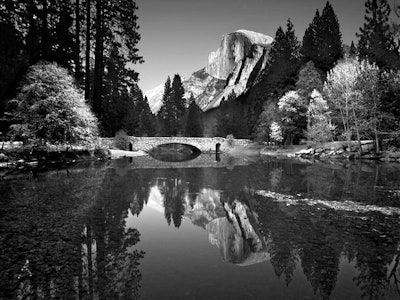 It doesn't matter how many times I go out on the road, I never cease to be amazed at how beautiful this country is. It's not just beautiful in a visual sense, it's a beautiful place entirely. The regional differences in language and food alone are enough to keep me busy. I've always been a huge fan of landscapes – love me some Ansel Adams prints (pictured) – and now that I've gotten to see the things from the photos in real life, I appreciate them even more.
It used to be really difficult for me to leave home, I spent tons of time before leaving on packing just the right gear and planning out our son's entire life while we were gone. Now that he's older and able to plan his own life pretty good, and I've learned what to take on the road, leaving is easy. And it's not just me it's gotten easier for, it's easier for all of us.
We were discussing our travel schedule with the family the other day, we always sit down with the kids and go over the whens and wheres before we leave.
"It'll be hit and miss for me until Thanksgiving. Dad will be doing a lot of local stuff in November. I won't be out unless he's going to be three days or more. After Thanksgiving, we'll be out pretty much the entire month of December. Plan on us being home around the 23rd."
Our son, who vowed never to get into the truck again after spending a three-week stint in it this summer, interrupts me. "Wait a minute, you can't stay gone until the 23rd. I get out of school on the 20th and I want to go out during my Christmas break."
Our daughter, who works approximately 55-60 hours a week as a nurse, interrupts her brother. "Hang on, I've never been out and I've got a week off work coming up in December, I should be the one who gets to go out for a week. I need a vacation where Dad drives me around to see cool stuff and I don't have to do anything else."
George then remembers something he needs to add. "Babe, I forgot. My Mom's birthday is in December. I told her I'd take her out for a weekend – do a short trip with her, maybe try to do a load up to Virginia so we can stop and see Aunt Dot."
Really, guys? How much of a trucking family have we become? And how freakin' lucky are we to be one? I reminded everyone it's my job to ride in the truck and see cool stuff, and I would be first booked on the Parker Tour Line. There may be seats available for late 2014, if anyone's interested.