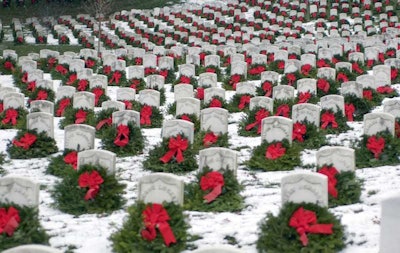 Two trucking industry entities, the Truckload Carriers Association and Pilot Flying J, have teamed up with non-profit Wreaths Across America to form a "rolling tribute" to fallen U.S. veterans.
WAA heads Morrill and Karen Worcester will be on hand at the Pilot Travel Center in Milford, Conn., Nov. 26 to hand out 1,000 wreaths to truck drivers to begin the tribute. The drivers will also get fasteners for the wreaths, so they can attach them to the their truck's grill.
The wreaths will each be one half of a Trucking's Patriot Pair, and the other half — the remembrance wreath — will be laid at Arlington National Cemetery on National Wreaths Across America Day, Dec. 14.
The drivers who receive the wreaths at the Pilot on Nov. 26 will be asked to stop at a local cemetery on Dec. 14 and remove the wreath and place it on a veteran's headstone.
Other truckers who would like to participate can order a Trucking's Patriot Pair online at truckloadofrespect.com. The wreath and fasteners will be shipped directly to the requested address. To participate, drivers must donate $30. A corresponding wreath will be placed on a veteran's headstone at Arlington Cemetery. Drivers who donate will receive a Wreaths Across America window decal.
Also, $5 from every purchase will go to TCA's National Image Campaign.
TCA announced a partnership with WAA last August to help dispatch drivers and coordinate the logistics of wreath delivery across the country. Each year, trucks deliver thousands of wreaths to cemeteries around the country as part of WAA to honor fallen veterans.