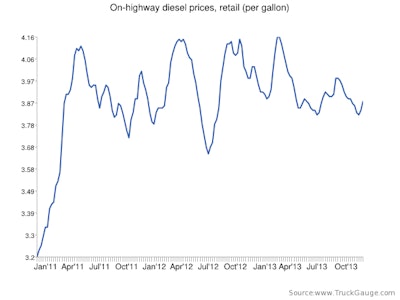 The national average price for a gallon of on-highway diesel rose for the second week in a row in the week ended Dec. 2, moving up 3.9 cents to $3.883, presumably spurred by increased demand from movement of goods for the holidays and consumer-related holiday activities like traveling and shopping.
This is the first time since the weeks ended Aug. 26 and Sept. 2 that the national average price increased in back to back weeks.
The 3.9-cent increase is also the highest weekly uptick — save for Sept. 2's 6.8-cent increase caused by increased likelihood of U.S. military intervention in the Syrian civil war — since a 3.9-cent increase in the week ended July 15.
The increase in the week ended Nov. 25 ended a string of 11 weeks without a week-to-week rise.
Diesel prices rose roughly the same in the last week of November last year before beginning a seven-week string of drops. The national average price is also still 14.4 cents cheaper than the same week in 2012.
Regionally, all prices rose, too, led by 5.7-cent and 5-cent increases in the West Coast less California region and the Midwest region, respectively. The Rocky Mountain region had the smallest increase, 2.1-cents, followed by a 2.7-cent increase in the Gulf Coast region.
The Gulf Coast also still has the country's cheapest diesel, $3.780 a gallon, while California has the most expensive, $4.056. The California and New England regions are the only two to have average prices higher than $4.