A Pomeranian who goes to hospitals to bring joy and love to patients, a cat who makes life on the road more fun and a macaw who loves to ride in the truck and watch the traffic — these are the second-place winners of Overdrive's Most Loved Pet contest.
Dog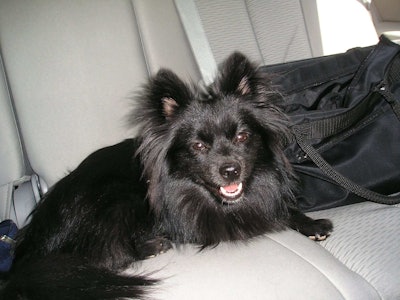 Owner William says Neena was a Hurricane Katrina rescue.
"[My best gal] went onto the rescue website and called up all of the black Pomeranians and then searched for certain criteria. After several tries, we found the right one. Her name is Neena, and we flew down to Louisiana to get her while she was in foster care from the hurricane. I was so excited that I was going to have a companion with me and one that looked exactly like my [previous pet] Sadie. But this was not to be. Neena loves her home and doesn't want to be gone for any great length of time. So, knowing this, Neena is now a Certified Therapy Pet and goes to hospitals and other facilities to bring joy and love to shut-ins, patients, etc. She is very well known and well liked and she truly gives back. So, when she is not stealing a short trip on the road (local only because of her volunteer work), she is doing her volunteer visits. She was given a second chance at a good life and I am proud to say that she has it. She shares her home with a Miniature Pinscher (Nellie) whom I rescued while on lay-over at a truck stop in Waco, Texas, along with three cats."
William Hawkins | Fleet management, H&B Trucking
Cat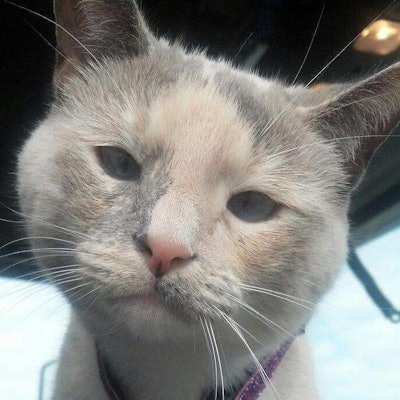 Owner Cindy says Diesel makes life on the road fun.
"She thinks that the truck is hers! She's all over the truck, but she abides the rules. No walking on the dash in front of the driver and she never tries to get out."
Cindy Rose | Owner-operator, Diamond Delivery Service
Other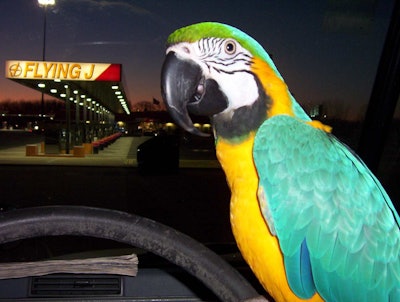 David loves his talkative blue and gold macaw, Sammy.
"He loves to ride and watch traffic. Also a great buddy on the road for eight years now. Plus, he talks."
David Lott | Company driver, Blamba Express Inc.