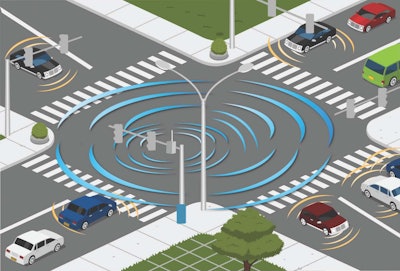 Regulations are coming that will require manufacturers of light vehicles to place vehicle-to-vehicle communication devices in new cars and trucks, the Department of Transportation announced this week, though the date of such a requirement was not announced.
The DOT's National Highway Traffic Safety Administration announced its intent Feb. 3 to begin taking steps to require vehicle-to-vehicle (also known as V2V) communication that would allow vehicles to "talk" to each other to exchange information like speed and road position to avoid crashes, especially common ones like rear-end, lane change and intersection crashes.
NHTSA said in its announcement it will publish a report within the next few weeks based on data gathered from a year-long pilot program done in Ann Arbor, Mich., in August 2012, when 3,000 V2V-equipped vehicles were deployed to gather real-world testing data to complement lab testing.
The announcement did not mention a timeline or a future requirement for V2V devices for trucks, but NHTSA did say in response to an Overdrive query that the work on light vehicles "will be a very important factor in the 2013 heavy vehicle decision later this year," adding that "many aspects of V2V technology used by light vehicles will apply but there are also additional issues we must consider. NHTSA will consider all types of heavy vehicles in its decision process."

NHTSA's light vehicle announcement builds upon a GAO report from November that concluded widespread V2V implementation could provide warnings to drivers in 76 percent of multi-vehicle collisions involving light vehicles.
The GAO did, however, list challenges facing the implementation of the devices, including concerns related to privacy and liability issues that could arise in using them.
According to Politico's Morning Transportation report from Feb. 4, several members of Congress, including Sen. Jay Rockefeller, Rep. Diana DeGette and Rep. Joe barton, all expressed concern over potential privacy violations due to vehicle data transmission.
The DOT has a website dedicated to V2V communication — Click here to see it.