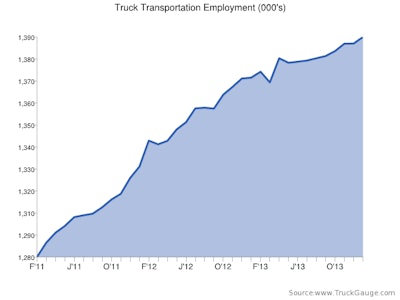 The trucking industry added 3,200 jobs in January, according to preliminary numbers from the Bureau of Labor Statistics, following up a month of low job growth in December, when the for-hire industry added just 100 jobs.
The U.S. economy as a whole added 113,000 non-farm jobs and the nation's unemployment rate hit a five-year low of 6.6 percent.
The overall number of jobs added, though, was once again below what economists had expected out out of employment in January.
The for-hire trucking industry's total employment jumped to 1.3911 million in the month. That number is up 19,900 (1.5 percent) from the same month last year and up 157,100 jobs (12.7 percent) from March 2010's bottom. However, it's still 4.3 percent — 62,300 jobs — from January 2007's peak.
The Department of Labor's figures do not include trucking-related jobs in other industries, like truck driver for a private fleet, nor do they show the amount of hiring in the month, as they only reflect the number of employees on payroll during the month.