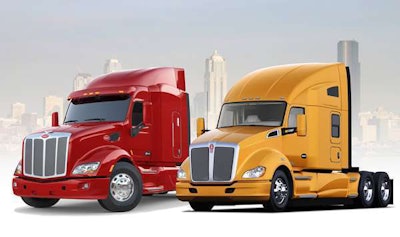 Paccar, parent company of Peterbilt and Kenworth, has issued two recalls for more than 21,000 Kenworth and Peterbilt model trucks for potential defects related to the door latch assembly on some trucks and the seat belt assembly on others.
2013 and 2014 Peterbilt Model 567 and 579 and Kenworth models T680 built between January 2012 and October 2013 could lock potentially are equipped with a defective door latch assembly (Inteva brand) that could either cause the truck to lock permanently while closed or open from the outside while locked.
The permanent lock situation could cause vehicle occupants to be trapped inside if a crash or fire occur, the recall says. Paccar says 11,056 vehicles potentially are affected by the faulty latch.
Paccar is also recalling several Kenworth and Peterbilt model trucks for potentially defective seat belt buckles that have a latch plate that can become partially engaged with the buckle when the release button is pressed, making it difficult to unlatch, again increasing risk of injury if a crash or other emergency event occurs.
2014 Kenworth models T660, T680, T700,T800, T880, W900, T440, T470, T370, T270, T170, C500, and C550T680 and 2014 Peterbilt models 320, 325, 330, 337, 348, 365, 367, 382, 384, 386, 388, 389, and 587 chassis manufactured between August 2013 and November 2013 and equipped with IMMI-brand L9 buckles potentially are affected.
Paccar says 10,414 vehicles are potentially affected by the recall.
Paccar is notifying truck owners of the recall, and dealers can inspect and replace the recalled parts free of charge, Paccar says. The recall is expected to begin by the end of the month, and truck owners can contact Paccar at 425-468-8228.