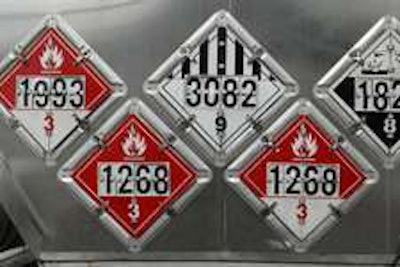 Federal courts have taken action in recent weeks against several violators in the trucking industry. Here are a few notable ones:
Small carrier pleads guilty in chameleon carrier scheme to violate shut down
A former owner-operator has pleaded guilty in charges related to his involvement in forming a "chameleon carrier" used to restart a carrier formerly shut down with an imminent hazard out-of-service order by the Federal Motor Carrier Safety Administration.
Corey Daniels, a Georgia-based driver and carrier owner, pleaded guilty in January to conspiring to violate the FMCSA order by forming Eagle Transport with Devasko Lewis, whose Lewis Trucking Company was issued the shut down order in 2008 after the agency discovered "serious violations" in a compliance review prompted by a crash — in which seven were killed — caused by Lewis.
Florida carrier fined $750k for illegally hauling hazmat
A Florida-based trucking company has been fined $750,000 by a federal court and given 24 months probation for illegally transporting hazardous materials.
Coastal Shipping Holding pleaded guilty in September to transporting hazardous materials, failure of a hazardous materials employer to train its employees and recklessly loading and stowing explosives on a vessel.
Investigators found that Coastal employees had illegally trucked shipments of explosives from the company's warehouse to a dockside facility, then placed the explosives next to other hazardous materials on a commercial vessel docked at Port Everglades.
Passenger carrier fined $75k for falsifying logs
A Connecticut-based passenger carrier has been fined $75,000 after a federal investigation led by the Federal Motor Carrier Safety Administration found that it routinely told its drivers to falsify logbooks in order to drive over federally permitted on-duty time. Wisla Express, based in New Britain, Conn., was also sentenced to 5 years of probation and its form owner, Elzbieta Szteborowski, and former manager, Dariusz Steborowski, were ordered to divest themselves from ownership. Also, Dariusz is not allowed to work for the carrier during the probation period.
FMCSA found in an investigation that the carrier routinely assigned drivers runs they knew would exceed hours-of-service limits and instructed drivers to falsify logbooks to cover up the violations. The carrier also submitted the false logs to FMCSA during its investigation.
Dariusz has entered a guilty plea.