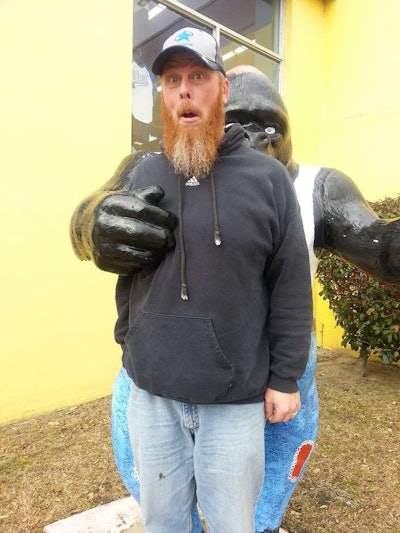 As we traveled through South Carolina this week, I couldn't help but notice the signs for Pedro's South of the Border. Helen Keller couldn't miss the South of the Border signs. They monopolize the 95 corridor with neon campiness that is best described as "tacky." I love them. I love that place.
We've stopped there in the truck before — it's very truck friendly, one reason I love it. It's a dump, but it's a dump with rides and an arcade and five different places to eat the same five ingredients, done fifty different ways. There are showers that are pretty dark and ominous, but they appear to be fairly clean and have smelled strongly of bleach every time I've seen them. They're $8 each – none of the co-driver shower business here, and I have yet to partake of one, but I wouldn't turn it down if I needed a shower.
I posted an update about it on our Facebook page, and was surprised at how many people said they had seen it but never stopped. Where else can you climb to the top of a giant sombrero and look out over the vast beauty of the I-95 corridor? Am I the only one who appreciates giant fiberglass chickens?
I didn't ask to stop. George had already stopped for me once, and I usually try to limit my stop requests to one a day. Traffic was also horrible, as it often is for pretty much the entirety of a trip on 95. When he pulled in I was surprised and happy.
"Oh goody! I'm gonna get a taco!"
I did the happy dance in my seat.
"You're like a little kid. I need to take a break anyway. We can't ride rides or go to the arcade, but I guess we'll eat something."
"Goody goody goody."
We helped ourselves to some pretty dubious-looking chili cheese dogs and tacos. Certainly not the best I've ever had, but the french fries are good and it's relatively cheap, and neither one of us got sick, so again, I wouldn't turn it down if I was hungry. We also got a really good walk, from one end of the Pedro strip to the other. If you're with someone cool who doesn't mind taking stupid pictures with fiberglass animals, it's an added bonus. Needless to say, we now have a Pedro's Photo Album file on my computer.
So if you've seen the signs and haven't stopped, you should, at least once. It's definitely not for everyone, but it's something that wouldn't hurt you to experience one time. It's worth stopping just to take a stroll up and down the street for a leg stretch. And of course, you haven't lived until you've purchased a pile of fake doo-doo from a truck-stop gift shop. Every cab should have one.