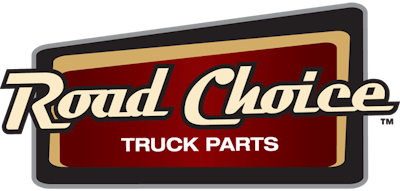 Road Choice Truck Parts is a new brand entering the heavy-duty truck industry's private label all-makes market. The brand offers growing line of parts, including air conditioning, air springs, air/electrical coils and accessories, brake chambers, exhaust products, lighting, shock absorbers and universal joints. Attendees of Mid-America Trucking Show in Louisville, Ky., March 27-29, can learn more about Road Choice all-makes parts at the Road Choice booth, No. 36065.
Road Choice products are designed to offer owners of out-of-warranty trucks quality and reliability with parts covered under a minimum, one-year warranty.
Drivers and fleet managers can find the selection of all-makes parts and a listing of authorized Road Choice Truck Parts retailers at www.roadchoice.com.