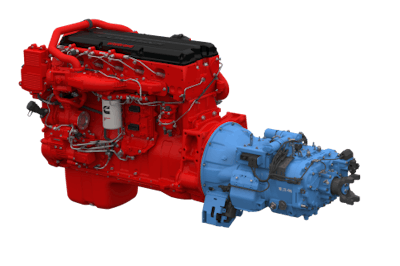 Eaton has expanded its truck transmission offerings with Paccar and Volvo, the company announced Thursday at the Mid-America Trucking Show.
For Paccar, Eaton will provide an optimized version of its Fuller Advantage Series Automated 10-speed transmissions, which will be available on select Paccar trucks with the MX-13 engine in order to maximize fuel efficiency in linehaul applications.
Volvo Trucks will offer the SmartAdvantage Powertrain in all VNL Series models in order to maximize fuel efficiency in linehaul and regional haul applications. In addition to lighter weight and increasing the driver pool with smooth, automated shifting, this powertrain is designed to enhance the time spent in a diesel engine's most efficient RPM zone helping to reduce fuel consumption.
"We are excited to partner with North American truck manufacturers to deliver integrated powertrain solutions," said Tim Sinden, president – North American Truck Operations. "Providing our fleet customers with enhanced, optimized powertrain choices is what Eaton believes benefits the marketplace, and we are confident this new offering will be well received by professional drivers."
For Paccar, the MX-13 engine and Eaton transmission will be available for Kenworth and Peterbilt trucks in long-haul and regional applications. By sensing the vehicle load and selecting the best shift points to match vehicle weight and road grade throttle position, this powertrain package can save up to 2 percent in fuel economy, according to Eaton.
"The transmission is very intuitive," says Kurt Swihart, Kenworth marketing director. "The optimized performance gets the absolute most out of the truck when it comes to shifting and fuel economy."
The SmartAdvantage Powertrain for Volvo combines a Fuller Advantage Series Automated Transmission with the Cummins ISX15 engine with SmartTorque2. This package has been embraced by customers since its launch last year while receiving industry accolades as a top new product, Eaton says.
Delivering fuel economy improvements between 3 and 6 percent, more than 80 customers have taken delivery of trucks with the SmartAdvantage Powertrain or have orders pending, with many confirming that their expectations in fuel economy improvements have been met or exceeded under real-world operating conditions.
"Volvo Trucks is continuously looking for fuel efficient solutions for our customers," saysWade Long, director, product marketing, Volvo Trucks. "The SmartAdvantage is one opportunity in the Volvo product offering to allow customers to 'downspeed'. Downspeeding provides additional fuel savings for every 100 RPM we can reduce engine speed."
A new Precision Lubrication system represents one of the most important upgrades in the Fuller Advantage Series. The system reduces the oil churn energy losses found in traditional transmissions by nearly 33 percent. With less heat being generated, the Fuller Advantage Series transmissions do not require a cooler and corresponding lines and fittings. The result is less preventative maintenance is required while engine fans cycle less, further reducing horsepower demand.
In addition, small-step technology enables downspeeding in overdrive and efficiency in direct drive. Optimized shifting is based on grade, vehicle weight, engine torque and throttle position.
Significant weight savings – up to 82 pounds with no sacrifice to strength – has also been achieved with the new Fuller Advantage Series transmissions, according to Eaton. A thin-wall cast-iron main case design is complemented by the strategic use of aluminum for the shift bar housing, auxiliary section cover and range cylinder.
All Fuller Advantage Series transmissions have a standard warranty of 5-years/750,000 miles. The Advantage Series clutch is warranted for 3 years/350,000 miles. Extended protection plans are also available.
All Eaton products are backed by the Roadranger network, which includes more than 200 drivetrain professionals throughout North America.