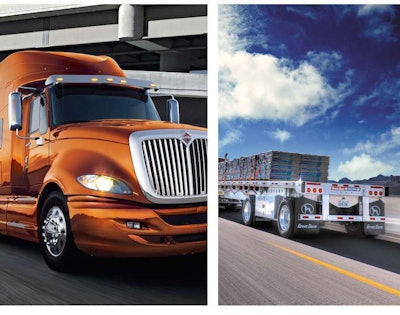 Great Dane is recalling more than 1,000 2013-2015 flatbed trailers for potentially faulty brackets used to store J-hook cargo restraint plates, and Navistar is recalling 124 2014 International ProStar tractors built with rear axle shafts that are too short.
Great Dane released its recall report March 11, and the trailer maker has not yet provided a timeline to the National Highway Traffic Safety Administration for issuing recall notices to customers.
In affected trailers, Great Dane's recall report says, the brackets used to hold the J-hook cargo restraint plates can break and cause the plates to fall off of the trailer, which could become a hazard in the road, its report says.
Great Dane says it will notify customers and dealers can replace the defective brackets free of charge. Owners with potentially affected trailers may call Great Dane at 1-800-633-4176.
Navistar's recall affects ProStars built between September 2013 and December 2013 and are equipped with feature code 14GXP 6×2 rear axles with R hubs and Dual Track rear axles. Affected tractors could have axle shafts that are too short, which could cause splines on the axle shafts bo not engage fully with the side gears of the rear axle differential.
This could cause a loss of power to the drive wheels and cause the trucks to stall, Navistar says. Navistar says its recall began March 18, and the company will notify owners, and dealers will replace necessary parts free of charge. Owners can contact Navistar at 1-800-448-7825.