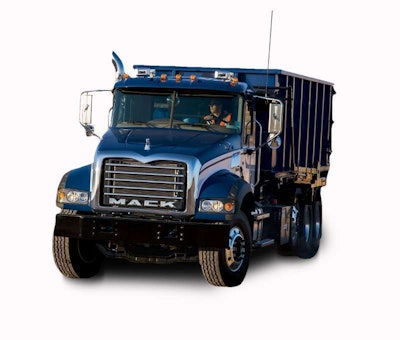 Mack Trucks donated a new Mack GraniteAxle Forward model to the Environmental Research & Education Foundation (EREF) live auction taking place April 30 at WasteExpo 2014. Proceeds from the live auction will fund EREF's research and education initiatives to help achieve sustainable waste management practices.
The Granite model, equipped with a Galbreath hoist and Pioneer tarping system for roll-off containers, features a Mack MP7-405M engine and six-speed Allison 4500 RDS transmission.
WasteExpo 2014 marks Mack's 18th year donating to the EREF auction. EREF is a non-profit organization that funds and directs scientific research and educational initiatives for waste management practices to benefit industry participants and the communities they serve.
WasteExpo takes place at Atlanta's Georgia World Congress Center from April 29 to May 1.