J.B. Hunt Senior Vice President Richie Henderson outlined key issues in the trucking industry to open the 2014 ALK Transportation Technology Summit in Princeton, N.J., offering some ideas about how communications and other technology will continue to drive "innovative responses" that improve experiences for carriers' drivers and customers.
The ALK summit celebrates its 10th year this year bringing together technology providers, carriers and others around the industry to share technology ideas and practices.
Drivers, capacity — "Capacity is very tight," Henderson said, and while upsides exist in what he views as something of a "pricing revolution" under way, the issue will continue to plague carriers until related retention and demographic problems are addressed. J.B. Hunt is utilizing technology not only on the recruiting side with multiple sourcing of leads and extra investment in Google Adwords but on the retention side as well.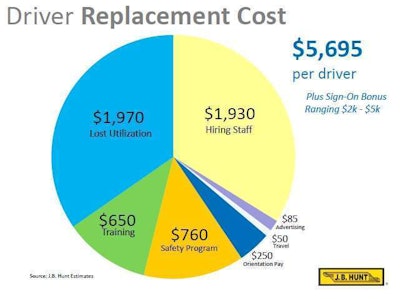 J.B. Hunt will hire "11,000 drivers for turnover replacement this year alone," Henderson said, at a cost of an average $5,695 per driver. The company is leveraging social media — Facebook, LinkedIn, Twitter, among others — to further connect with both new and existing drivers, but more than anything, Henderson said, a wage increase could "shift the supply" significantly. The historical perspective shows that "drivers haven't had an inflation-adjusted wage increase for seven years." It's long overdue.
However, wages alone won't keep the drivers around, as Henderson and others have found out. "When a driver comes online for a 2 percent increase in pay," he said, "they'll quickly jump to the next carrier" to increase pay. In the end, retention "comes down to how the driver is treated by the company and the customer."
While Henderson stressed the importance of a driver-empathetic company culture, of a piece with the focus of the summit, he and others offered ideas for helpful in-cab technologies that make the job easier and give windows into self-performance. They've been the focus of Hunt and other fleets. Ken Kennedy of A&S Kinard presented later in the day a sort of case study in navigation-enabled on-board computing with positive retention results. One of the company's main goals in adopting a new TMS and on-board computing platforms to bring three newly combined fleets under one system was to improve the driver's experience in every aspect of working for the fleet. A&S Kinard adopted the lower-cost Omnitracs MCP-50 unit for an on-board computer and enabled it with ALK's CoPilot Truck navigation software – with numerous customizable approaches to routing.
Kennedy's perhaps unique as a director of information technology in that, once employed with Kinard, he got his CDL and "got out in the truck" and learned to truly "walk and talk with what [drivers] were doing. I got respect, I got inspected and DOT'd" and got violations, but it paid big dividends in the operation, he said, in his ability to see clear benefits in technology when warranted. As he became more familiar with driver needs, he found them getting well-acquainted with the different on-board systems and tools on the market. Many drivers are more likely to ask recruiters at events "What [on-board systems] are you running in your trucks?" today, he said, than to query the kinds of trucks and levels of governed speed within the fleet.
Omni-channel trend and big data — Consumers don't buy today from the same venue through which they research a product, Henderson pointed out. Data to be researched is ubiquitous. Yet, when they do purchase, they "demand a seamless experience," Henderson said, all in all a trend that is accelerating rapidly. Of a piece with that trend, real-time customer visibility into the location of a load is a consistent desire Henderson hears from J.B. Hunt's global- and national-accounts team's customers: "I want better visibility for what's happening to my freight."
Drivers have the tools – smartphones – to deliver such visibility to shippers and receivers – integrating drivers' devices with software into back-office systems can be an efficient way to deliver visibility, and one that remains convenient to the driver.
In some ways, though, little has changed but the degree to which customers want speed and on-time delivery. Henderson asked, "How do we ensure that we … have on-shelf availability of high-volume, high-demand items" staged for delivery within a day or two of order? Different approaches to warehousing from shippers and use of strategically positioned carrier cross-docking facilities are providing parts of the solution on the freight end, but new technologies are also emerging to help.
"Routing and scheduling technology and new [Transportation Management Systems] are where people are placing their investment bets," he said. "You'll see an acceleration of these technologies to satisfy omni-channel questions," also more developed backend system to analyze and present the reams of data points generated by a trucking business to well-informed courses of action. Henderson cited a study that noted companies that are "really good at analytics" were twice as likely to be in the top fourth in financials and five times as likely to make decisions more quickly.
Macroeconomic performance — With GDP growth in positive numbers, acceleration in the wider economy means continued challenges for carriers to ease the stresses created by current capacity and business issues. As evidence of growth, Henderson pointed to key economic indicators but also shared anecdotal evidence of strong opportunity in flatbed and other segments.
Looking into the future, an executive management survey recently showed that 60 percent of those surveyed believe the economy will continue its advancement for the forseeable future. This all "meets us at a time when our capacity is very strained," Henderson reiterated.