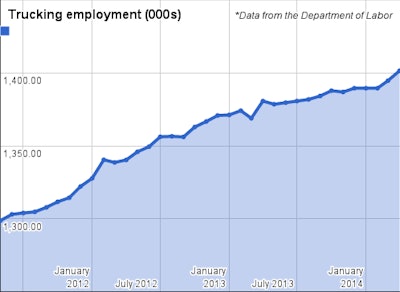 That only tells a small part of the story, however. Specialized operator Jim Stewart, over in Overdrive's LinkedIn group, commented to that effect followed this news item, spelling out employment numbers, which continue to grow in trucking. Still, the industry, on a pure size basis measured by payroll jobs, is about 4 percent behind its peak in January 2007.
That might not be a bad thing, as other metrics have been looking better lately, of course — tight capacity is driving rates up, as reports from the spot market over the last several months have shown. Here's how Stewart put it:
Yes, I see trucking improving. The companies are finding it harder to attract good people to this lifestyle of heavy-handed oversight by every government and state agency that wants a piece of a trucker's bottom line. It's beginning to effect rates somewhat to an extent that I no longer have to explain twice daily why I need the extra money to move the customer's load from point A to point B. Amazingly, now I'm finding service is fast becoming a priority once again. It's about time! Maybe driver wages will soon begin to catch up to today's standards instead of remaining stuck ten years behind.
Catch his full comment here, which gets into different dynamics in the intermodal sector, where low-ball rates from Stewart's vantage still rule the day. (Might not tell that to Elvin Hilton, whom I met Monday and who seemed to be doing well with inland/non-port intermodal.)
In any case, sound off on the capacity issue in truckload here. While most of us might agree, I'm guessing, on the result — better rates than what we've seen in the recent past — what's the primary driver as you see it? Vote in the poll here.