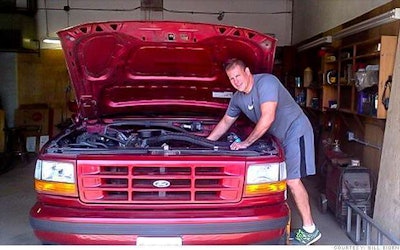 CNN Money this weekend profiled Bill Eigen, pictured above, of JPMorgan Asset Management — of interest was how he knew the crash was coming in 2007 and how, today, he feels that trend is near exactly opposite, in some ways.
It also happens that Boston-based Eigen's the owner of a Massachusetts auto- and truck-repair shop. While it's managed by others, Eigen, a capable mechanic himself, spends no small amount at the shop on weekly Saturday visits, which yields perspective on the economy you can't get sitting behind a desk, writes CNN Money's Matt Egan.
Talking to truckers in 2007, Eigen heard tales of "slashed loads, canceled routes and delayed maintenance," writes Egan, just as the fed was assuring U.S. lawmakers the "storm" wasn't coming.
Eigen, like trucking economic analyst Donald Broughton (whose regular carrier bankruptcies reports are well-known) looks to the trucking world as a bellweather for what's coming in the wider economy. What operators are telling him today — combined with his maintenance shop's business performance — lead him to echo what owner-operator Jim Stewart had to say about trucking recently: "I see trucking improving," he noted, going on to note rates getting better and a hope that average driver wages around the industry might well follow well upward of the stagnation we've seen for many years.
As for Eigen's shop, "We saw business fall off a cliff in 2007. You have the complete opposite now. We're booked solid," he told Egan. Conditions are such that he's predicting the shop's best year since 2003.
But at once there's an undercurrent of skepticism in me about rosy predictions, given that I also continue to hear tales of business stress that themselves echo this report from the GobyTruckNews.com site, titled "If Wages Are So High, Why Are Spirits So Low." They cite a variety of factors, some also noted by owner-operator Stewart — some trucking segments are doing well, while others (drayage, some other short-haul segments) lag behind. Note the GobyTruckNews piece cribs a chart from Overdrive's 2014 ELD survey as well. New and/or changing regulation puts a strain on any business coming under regulation, and the past few years, as so many have noted, have been pretty active on that front.
My question for you today: How's business today from where you're sitting?
You can read the CNN Money report on Bill Eigen via this link.