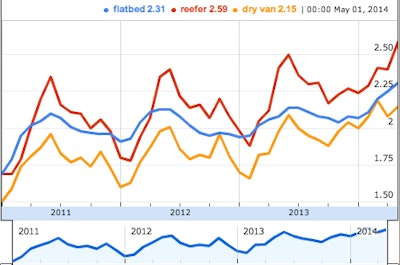 Rates in all three segments boomed in May, continuing to build on recent per-mile upticks, according to data released June 2 by Internet Truckstop.
Reefer rates on the spot market led the month-over-month increases with a 19-cent jump from April. Reefer is also up 18 cents from May 2013.
Its $2.59 a mile is the highest recorded since Internet Truckstop began tracking rates in 2005.
Flatbed likewise set a record, jumping another 6 cents from April to $2.31 a mile — its second straight record high.
Flatbed rates are 23 cents higher than the same month last year and have climbed 24 cents since the beginning of the year. They're up 25 cents from the same month in 2012.
Rates in dry van also followed suit, rising 7 cents to $2.15 — the second all-time highest per-mile rate on record, according to Internet Truckstop, coming up just shy of March 2014's record of $2.19.
Van rates are 17 cents higher than the same month last year. This is also the sixth consecutive month rates in the segment were above the $2 mark — a threshold it only bested for the first time in June 2012 and only topped three months in 2013, with one of them being December.
Rate increases are expected this year due to an uptick in freight and tightened capacity caused by the regulatory environment.