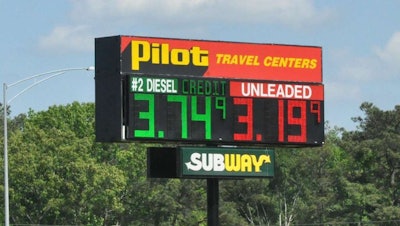 Pilot Flying J's Vice President of Sales, John Freeman, has been fired by the truck stop chain and fuel provider, a source has confirmed with Overdrive.
Freeman's ouster comes just two weeks after the company's President Mark Hazelwood left the company, though it's unclear whether Hazelwood was fired or resigned.
The departure of both comes in the wake of the alleged fraudulent rebate withholding scam that has rocked the company the last 14 months. It began in April of last year, when federal investigators raided Pilot's Knoxville, Tenn., headquarters and placed it on lockdown.
A federal affidavit was unsealed days later that detailed the accusations against the company, alleging it withheld millions of dollars in owed fuel rebates from trucking companies.
The affidavit includes several transcripts of conversations held between Freeman and an informant within the company, alleging both his knowledge and involvement in the scam.
In one conversation, Freeman admits that after the Nashville-based Western Express (No. 51 in the CCJ Top 250) confronted him about errors in their rebate checks, he bought an airplane for $1 million from the carrier to square up.
Since the April 2013 raid, Pilot has reached an $85 million class-action settlement with 5,500 trucking companies, and 10 Pilot employees have pleaded guilty to fraud and conspiracy charges.
Seven carriers opted out of the settlement and sued the company separately, and those cases are still ongoing. A judicial panel ruled last month to consolidate the cases and transfer them to a federal court in Kentucky.
Pilot owner Jimmy Haslam has maintained he knew nothing about the scam and was not involved.
Click here to see all of Overdrive's coverage of the Pilot Flying J case.