"Everybody here knows Jack."
It's no wonder a Bison Transport receptionist had that to say about Jack Fielding, who has been with the Winnipeg, Manitoba-based company for 16 years. Fielding has made quite a name for himself within Bison and now elsewhere in the trucking industry.
Topping a growing list of safe driving and driver of the month awards, Fielding, 55, was named 2013 Company Driver of the Year by the Truckload Carriers Association and Overdrive at TCA's annual meeting in March.
Fielding received a Cummins-powered 2013 Ram 2500, sponsored by Chevron Delo and Cummins, and a year's supply of Delo oil.
Everything Fielding does to give back to the company made him an obvious candidate for the award, says Garth Pitzel, Bison's director of safety and driver development.
"Some drivers just go about driving, and they do it well and safely, but Jack's always been an active member," Pitzel says.
Fielding gives Bison a lot of credit for his success – and he's hardly the only one to recognize the company's many qualities. Bison, too, was honored at the TCA meeting as the winner in the company driver division of the 2013 Best Fleets to Drive For contest.
Bison seemed to be the perfect match for Fielding when, about 16 years ago, he was ready for a fleet change.
"I came [to Bison] because I researched them, and there were nothing but good things to say, and everything turned out the way they said they would," Fielding says. "What actually drew me [to Bison] was the emphasis on being safe."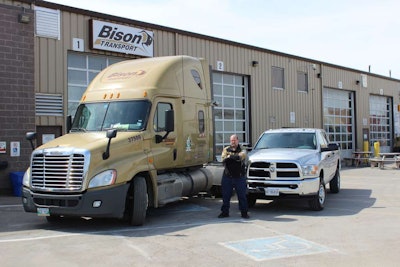 Fielding lives in "the heart of cottage country" in McKellar, Ontario, about two and a half hours away from the terminal. So when he makes the trek to work, he expects to stay on the road for up to two weeks before heading home to his girlfriend, Linda Goddard.
"When I go to work, it's strictly business," Fielding says. Pulling a reefer, he usually drives from Winnipeg to Chicago or elsewhere in the eastern half of the United States. As required by law, he reloads and drives straight back to Canada.
Bison recognized Fielding's professionalism and made him a trainer six or seven years ago. "It's been really fulfilling," he says. He sometimes brings a student on his routes "so they get the cross-border experience," he says. "It's like a new day every day."
Fielding's experience and his focus on safety come through in his training role, Pitzel says. "He's done a very good job of starting the careers of many professional drivers in our business."
As part of Bison's driver advisory board, Fielding gets to hear more about the company's inner workings. "It's not just about truck driving anymore," he says. "It's about doing a little more. I get to expand my horizons."
The opportunities at Bison are no surprise to Fielding, who believes the fleet's reputation is well-deserved and that its executives live up to what they promise.
"Every driver that I talked to before I came [to Bison] said pretty much the same thing," he says. "They're rock-solid. They want you doing it the right way."
Because Fielding has gotten so involved in the company, he has the inside scoop and learned quickly that Bison wants to do right by its drivers.
"When I go to the driver meetings, they're always thinking about ways to make it better for us," he says. "I really do feel they have the driver's best interests at heart. They want you to be safe, and they're going to back you up, whatever decision you make."
In turn, he says, drivers do what's right for the company and its clients. That starts with safety, which is also the number one priority for Fielding: He's about to reach 1.75 million accident-free miles with Bison.
"Anything I do, I think about it a couple of times before I actually do it," Fielding says. " 'Do I really need to pass this person? Is there a better way to make a right-hand turn here? Should I go to the next street? Which is going to be the safest way to do it?' It's really quite simple, I think."
Never idle during his time off, Fielding might be found fishing or tinkering with motorcycles. "I restore them and paint them, sell them off, make a few dollars," he says.