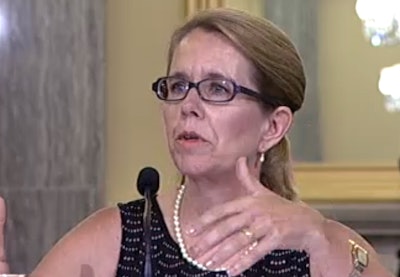 A group of drivers and owner-operators representing diverse segments of the industry have issued an open letter to Department of Transportation Secretary Anthony Foxx contradicting the Owner-Operator Independent Drivers Association's board of directors and executive management in the call for FMCSA Administrator Anne Ferro's resignation.
In polling conducted in the wake of OOIDA's call, upwards of 90 percent of Overdrive readers expressed support for the association's move.
The letter is signed by several members of the Trucking Solutions Group of owner-operators, among others. In news published June 20 at this link, a longtime TSG member, Scott Grenerth, was named OOIDA's new Director of Regulatory Affairs.
Text of the open letter follows:
We are writing to refute the position of the OOIDA Board of Directors and management requesting the resignation of FMCSA Administrator Anne Ferro.
We are an industry-recognized group of very experienced professional truck drivers and business owners with millions of miles of safe driving. Most of us are members of OOIDA and we respectfully disagree with our leadership on this issue. On a daily basis we observe the safety conditions on the highways while we engage in interstate commerce.
Administrator Ferro is the first FMCSA administrator that has made an extraordinary effort to reach out to our industry by personally conducting listening sessions at trucking shows and truck stops and by answering driver questions on the radio. She also makes herself available to professional drivers at industry events. We believe these actions demonstrate the extra effort she puts forth to gain the knowledge she needs to make some very tough decisions. Also, by actually mingling with the blue-collar people in the industry, she has fostered a unique safety culture in our industry. Never, before the introduction of CSA program, has safety been on the lips of so many industry leaders and professional drivers.
Administrator Ferro, in our opinion, "gets it." She understands, and we strongly agree, that there is a correlation between compliance and safety. She also understands that the inequitable compensation standard is the fundamental issue that stands in the way of achieving the level of compliance required for a safer trucking industry, not only for other motorists but also for other professional drivers.
Thus far, Administrator Ferro is the only person stepping forward and discussing the need for American truck drivers to be protected from unscrupulous management. We believe Administrator Ferro truly understands the trucker's plight, demonstrated by her testifying before Congress regarding fair compensation for drivers. She then proposed that Congress pass legislation requiring truck drivers be brought under the Fair Labor Standards Act, like most other American employees. She recognizes that most truck drivers today, especially in the truckload sector, are experiencing increasing difficulty remaining financially solvent while operating in compliance with safety regulations.
We strongly support Administrator Ferro's plan and believe Congress must cooperate with the FMCSA to accomplish their stated mission. Administrator Ferro has stated that part of the mission of the FMCSA is to raise the bar for both drivers and motor carriers. These kind of low-end operations create a "race to the bottom" mentality, which causes other companies to cut corners at the cost of safety. You can be sure her efforts are working because those bottom feeders are now circling their wagons. The FMCSA needs to continue putting pressure on these operations, forcing them to become mature, ethical businesses, or be run out of business.
Among our group of professionals, we are certain; this is the time to support Administrator Ferro and the FMCSA.
Jerry Fritts, American Overland Freight Services, 48 years driving
Henry Albert, Albert Transport, 31 years driving
Bob & Linda Caffee, Caffee Enterprises, 10 Years driving
Jeff Clark, Clark Trucking, 26 years driving
Tom Kyrk, 8 years driving
Jeannie Silk, 18 years driving
Rick Ash, Hat Trick Enterprises, 27 years driving
Shawn Hubbard, 14 years driving
Jimmy Nevarez, Angus Transportation, 12 years driving
David Wimot, 38 years driving
Scott Kinley, 17 years driving